Zula Vegetarian Paradise
23/12/2021 01:10
---
Lifestyle is a rather difficult choice for most people. But, when getting used to tasting healthy food, most of which are vegetarian. Talking about vegetarian food, tourists will also find it quite difficult to find specialist vegetarian dining places that are also delicious. Well, if tourists are in Bali, Zula Vegetarian Paradise Seminyak can be the solution.
Its location in the Seminyak area makes this place very easy to access. Tourists will also find a comfortable atmosphere while in this Balinese vegetarian restaurant. Well, because the menu they serve is made with organic ingredients and not in the form of meat, this restaurant can also be an interesting consideration for Muslim tourists.

The Healthy Menu at Zula Vegetarian Paradise Seminyak
While here, tourists have the opportunity to sample truly healthy vegetarian food. There will be no added ingredients for taste. Instead, they ensure that every ingredient used is organic and the development process is carried out without the use of pesticides.
The salt used as a cooking ingredient is a type of pure sea salt. Likewise with the use of water which is actually sourced from natural springs. In addition, they also specifically use stainless steel cookware. This is done to minimize the mixing of harmful ingredients from unhealthy cooking utensils.
The menu options that can be obtained are also very varied. Tourists can find menus in the form of miso soup, crepes, pancakes, porridge, fruit salad, and so on. Some of the menus are processed raw, some have been cooked. Regarding the price, Zula Vegetarian Paradise sets an average price of IDR 50,000 to IDR 100,000.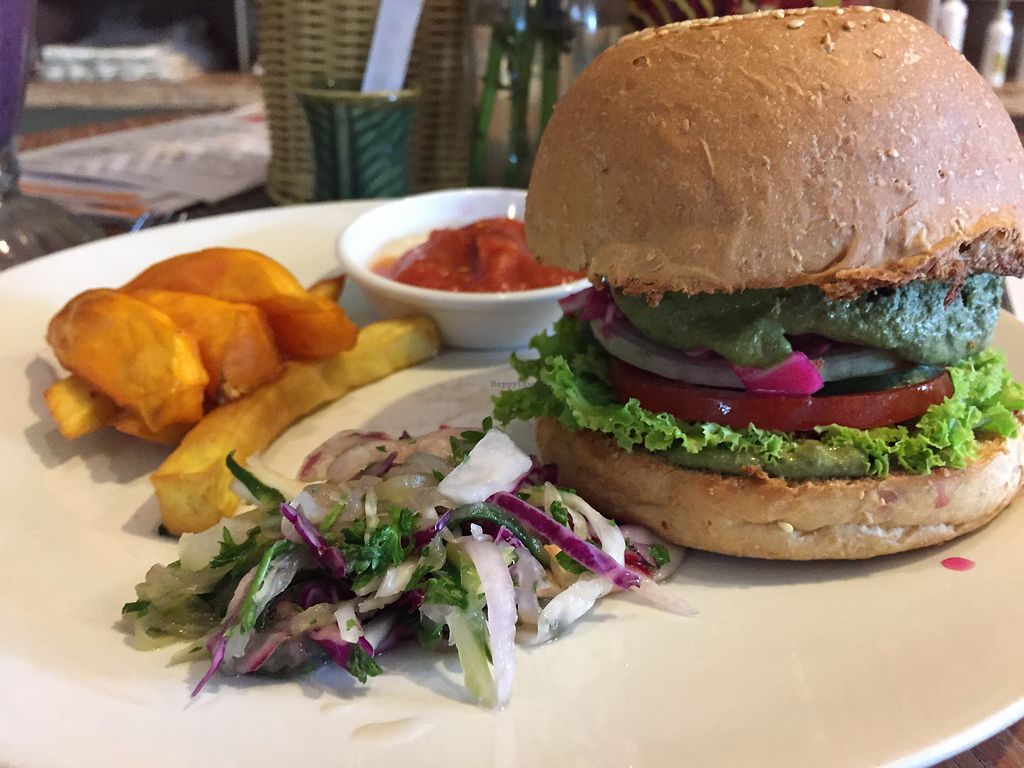 The Natural Atmosphere at Zula Vegetarian Paradise Bali
The floor in this restaurant is made with ordinary tile floors. The use of brown color gives the room a simple atmosphere. This simplicity can also be found in the selection of wooden furniture of the same color. The use of wooden tables and chairs also creates a vintage impression. What's more, when tourists take pictures of food against a wooden table background.
As a restaurant that specifically emphasizes a healthy and natural lifestyle, Zula Vegetarian Paradise presents a harmonious atmosphere. While in the restaurant area, tourists can find that this healthy eating place is far from luxurious. On the other hand, the simple and natural style of the room is the main characteristic that tourists can get from a restaurant room.
In addition, comfort also remains a priority factor for the management of Zula Vegetarian Paradise. The proof is that Zula Vegetarian Paradise can be used by tourists as a restaurant where they work. There are facilities in the form of free WiFi internet access, which can be used as much as you want while in the restaurant.
Location
This healthy restaurant can be found at the address Jl. Camplung Tanduk Number 5, Seminyak, Kuta. The location is very close to HARRIS Hotel Seminyak. In addition, tourists can also find vegetarian restaurants located very close to Double Six Beach which is one of the most popular beaches in Bali.