Woo Bar Bali
29/10/2021 00:02
---
The holiday period will be fun if you visit Bali. Everyone, especially tourists, will find a lot of fun and unforgettable things when vacationing in Bali. It is not surprising that Bali is known as a paradise on earth. Starting from natural attractions, cultural attractions, culinary attractions and various fun places can be found in Bali easily.
Various places in Bali, especially tourism places that are crowded with tourists, usually present a lot of interesting and unforgettable things. Vacations don't feel complete if you don't visit popular tourist attractions in Bali, such as Woo Bar Bali.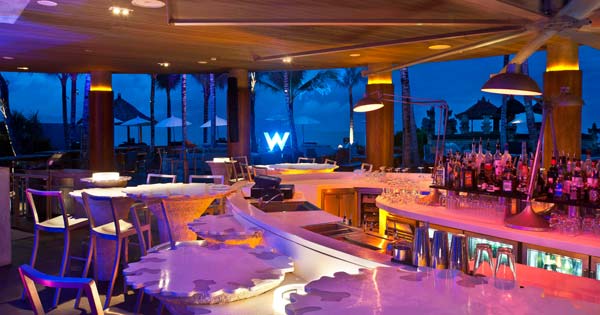 Fun Activities At Woo Bar Bali
Located inside W Hotels Seminyak, Kafe Woobar has some uniqueness in such a laid-back place. It's the first time tourists enter the W Hotels Seminyak area, tourists will be amazed by a road that is approximately the width for two cars. On the right and left side of the road there are thick bamboo trees with circular ends. So it seems to create a hallway leading to the hotel entrance.
Before entering the hotel area, tourists may have to be a little patient with checking by security for mutual safety. Now, shift to the lobby area. Here, tourists will see a lobby bar with several neatly arranged seats. A swimming pool with a unique design is there. Slightly shifted to a large garden with many young coconut trees that tourists can find. It's not enough just a view like that, the view of Seminyak Beach seen from the terrace is no less interesting.
The outdoor part of the Woobar Cafe looks neatly lined with beds on the beach. This place is devoted to spending a romantic evening with your lover. But to be able to eat at this place, tourists must order first. While the best spot to see the sunset of Semintak Beach, tourists should head to Woobar's Sky Deck. The reddish-yellow tinge of the evening sky is an interesting spectacle. Moreover, tourists will be entertained by live music DJs that play a bit relaxed. The darker both indoor and outdoor areas, the more attractive Woobar. The colorful lights with many round lanterns above their heads captivate the hearts of anyone who comes to dine on the outdoor side of the Woobar. But if tourists are more comfortable in indoor places, that's no problem. Because the indoor place is very cool.
Woo Bar Bali Attractiveness
Overall the Woobar Cafe is great. The concept of a modern style beach club has been successfully applied. The concept is more inclined to fashion, music, design. Especially if tourists are looking for a fun and romantic hangout place. Woobar is one of the answers. Being one of the coolest hangout places in the Seminyak area, Woobar has a modern architectural style with a futuristic touch. Because it emphasizes the bar area, of course it sells a variety of drinks ranging from non-alcoholic to alcoholic.
One other uniqueness is the presence of a counter with bar stools. So that tourists can see the bartenders mix drinks. Besides that, most of the menus at Woobar are simple bites and the majority are Asian-Mediterranean tapas.
Location
Jalan Petitenget Seminyak, Kerobokan Kelod, Kec. North Kuta, Badung Regency.