Two Fat Monks Café
15/11/2020 21:04
---
Café nowadays does not only function as a place to eat. Its existence has become part of the modern lifestyle. Those who come to the cafe do not only aim to eat food. However, many visitors also use the cafe as an alternative workplace and even a meeting location with clients.
Therefore, many cafes today are adopting modern room designs to accommodate the needs of consumers. One of the cafes in Bali that has successfully carried out this modern concept is Two Fat Monks Denpasar. Two Fat Monks cafe is currently transformed into one of the popular hip cafes in Denpasar.
Two Fat Monks Bali Cafe with a very Instagram Worthy Atmosphere
To attract consumer visits, Two Fat Monks has a cool interior design. They deliberately use Asian interior and exterior designs. Moreover, the full name of this cafe, Two Fat Monks Asian, does use Asian frills.
One way to present an Asian element in a cafe space is to use a bar area design that is similar to a boat deck. Not the usual boat deck they use as a reference, but the deck of a Chinese ship that once docked on the island of Bali in the 9th century.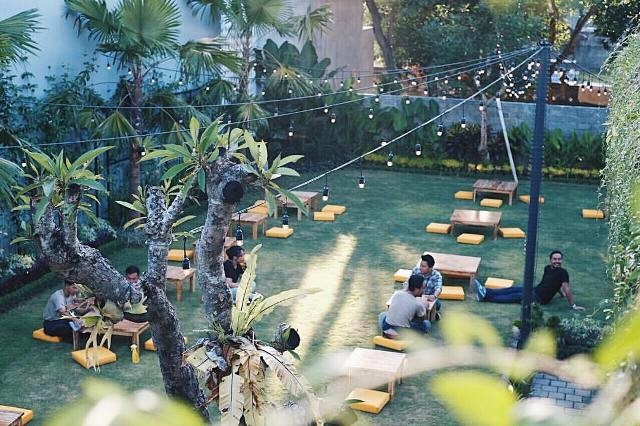 The vintage element in the bar area is thickened by the use of wood combined with iron. Even so, the cafe is also still trying to bring the sophistication of modern technology through the use of sophisticated equipment.
Not only that, the instagramable vintage atmosphere at Two Fat Monks Denpasar also strengthens the vintage elements in the room. Moreover, they use furniture products that can give the impression of being in the 1920s.
Visitors can choose to enjoy good food from cafes in indoor or outdoor areas. The outdoor area in this cafe is no less attractive than the interior. Here, you will find a large garden area accompanied by luscious green plants.
The open garden area in the cafe is also accompanied by an atmosphere that is no less Instagram worthy. You can take advantage of this open space when the weather conditions are sunny. Moreover, the outdoor area is accompanied by beautiful hanging lamps and pillows for relaxing.
This cafe is also very suitable if used as a place to relax with children, you know! As proof, the cafe manager provides a gazebo area accompanied by children's games. There are not many choices of rides. However, these game rides can be used for free until satisfied.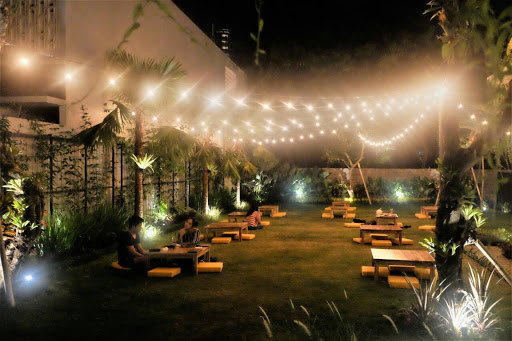 Rows of Asian Typical Menu at Two Fat Monks Denpasar
The menu that you can order while relaxing at Two Fat Monks is mostly Asian food. However, you can still order local specialties as well as European food while you are here. Menu options that you can order include processed duck, pork-based foods, burgers, and so on.
The location of Two Fat Monks is also very affordable and strategic so it is easy to reach. The address of this cafe is at Letda Tantular Street Number 7 Renon. So, you can use this cafe as a means of gathering with your family or it can be used as a meeting point with clients.