The Ocean Sunset Villa
15/02/2022 17:08
---
The holiday period is not a time that only some people look forward to, but everyone. Especially tourists who like to travel. Every tourist will look for the best tourist destinations to visit. The island of Bali is a favorite choice of tourists, both foreign tourists and local tourists.
There are many reasons that make tourists love the island of Bali. One of them is because of the variety of beauty and uniqueness that can entertain tourists. Every tourist who vacations in Bali will get the best and unforgettable holiday experience. Like when visiting The Ocean Sunset Villa.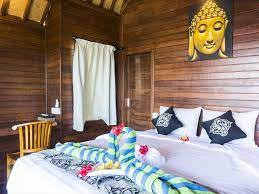 The Various Room Options at Ocean Sunset Villa
This hotel does have an exclusive location. This hotel building is only about 2 minutes walk from one of the beautiful beaches that are famous as surfing spots in Nusa Ceningan. The view of the big waves is entertainment that relaxes the mind while you are here. All these views can be seen by tourists while relaxing in the hotel swimming pool area.
There are not too many room options available at The Ocean Sunset Villas Nusa Ceningan. There are only two rooms that can be occupied, namely a family room with a sea view and a bungalow with a sea view. The main difference between these two room options is the bed. The family room has 2 queen size beds. While the bungalow only contains 1 bed.
How about the facilities in the room? During your stay at this hotel, The Ocean Sunset Villas Nusa Ceningan provides quite complete facilities in the building. Each room is equipped with a desk and ironing facilities. There is also a bathroom with a shower complete with toiletries.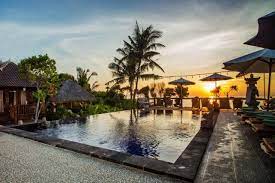 The Interesting Things At Ocean Sunset Villa
Located on a small island known for its natural beauty, Ocean Sunset Villa offers quite complete facilities. Tourists can find the existence of a large swimming pool and its cleanliness is also well maintained.
Tourists can try to swim in the pool or relax by the pool. There are lounge chairs by the pool which can be a place to relax for hotel guests. All that can be done while enjoying the beautiful scenery around the hotel. Rates to stay at this hotel can also be obtained at a price that is not too expensive. For a bungalow room with a capacity of 2 people, tourists can get it at a price of around IDR 400,000 per night. Meanwhile, family rooms with a larger capacity, up to 4 people, are set at a rate of IDR 1,000,000 per night.
In addition, the hotel also provides free internet access via WiFi network. Not to forget, there is also a restaurant that provides a variety of menus to fill a hungry stomach. This restaurant is open around the clock, serving breakfast, lunch and dinner.
Location
Located in Nusa Ceningan, Nusa Lembongan, this place is about 3 minutes walk if you want to feel the thrill of jumping from a cliff into the sea. In addition, Mushroom Bay is a 15-minute drive from the hotel.