The Amora Restaurant Kintamani Bali
02/08/2020 19:42
---
If you have a plan to go on a vacation in Bali, or maybe you are on vacation in Bali precisely in Kintamani and with your partner, you must take your partner to The Amora Bali Restaurant. At the Amora Bali restaurant you can enjoy the atmosphere of the mountains while you are eating your dishes with your very romantic partner. The food served by The Amora Bali Restaurant is very delicious, but the luxurious interior design and cool mountain views will make you very comfortable and also enhance your mood.
Amora Restaurant provides a varied menu and is ready to serve you from morning to night. You can use this place to eat in the morning or evening, do not forget to capture the moment because there are many photo spots that you can use to decorate your gallery.
Places to Take Pictures
The most popular place for visitors to visit is a place in an open area with a background directly to Mount Batur. The mountain scenery will be seen as a whole without being covered by any building, so it will be the most beautiful photo during your vacation in Bali.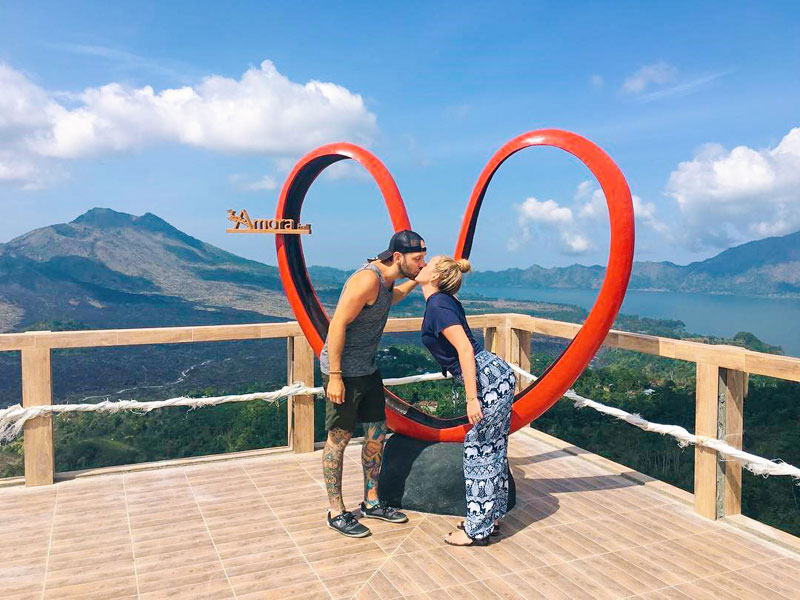 Not only Mount Batur, but there are also beautiful views of Lake Batur. The combination of lake and mountain makes The Amora Bali restaurant so popular among tourists, both local tourist and international tourist. The Amora Bali is perfect for those of you who like luxury restaurants and take pictures with friends, couples or family. Make sure you come when the weather is sunny so the light you get will be good for your photos.
The Menu
The menu choices that you can eat at The Amora Bali restaurant are traditional Indonesian menus. there are also western and oriental menus if you want, but the dominance of the menu in this restaurant is the traditional Indonesian menu. Some traditional Balinese menus that you can eat are satay lilit, gado-gado, fried rice, chicken wings, and chicken betutu. In addition, you also have the opportunity to taste one of the traditional Balinese snacks called Lak-Lak.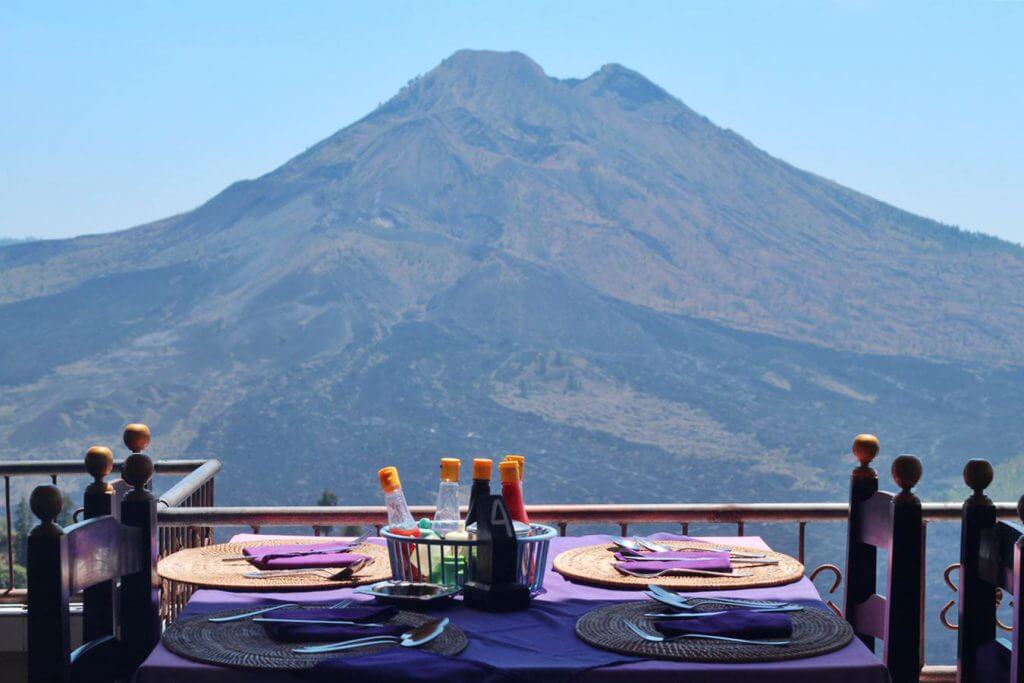 Lakak is a typical Balinese snack that looks similar to Serabi cakes, only slightly different in composition and manner of presentation. Interestingly, visitors of The Amora Bali restaurant can witness firsthand the making of this dance.
If you are a visitor who has some rules in food such as Muslims and vegans, you need to pay attention to the menu in this restaurant. Not all of The Amora Bali's restaurant menus are halal for you. If you are curious about the price of The Amora Bali restaurant food menu, you need to prepare a budget of around Rp. 400,000
Location
The Amora Bali Restaurant is located at Penelokan Street number 999, Kintamani, Bali. Amora Bali Restaurant is open every day, from 8 am to 4 pm. So, you can not watch the sunset while in this place. Can not also choose the location of this restaurant as a place to eat a romantic dinner.