Tanah Lot Bali
29/10/2022 01:34
---
During the holiday season, many tourists will come to Bali to enjoy all the beauty and uniqueness that exists. Both local tourists and foreign tourists will make unforgettable beautiful memories when on vacation to Bali because there are many popular tourist attractions. One of them is Tanah Lot.
Tanah Lot is also the perfect place to watch the sunset in Bali because of the beautiful sunset view with the silhouette of the temple. Every spot in Tanah Lot is often one of the best pre-wedding photo locations in Bali. Tanah Lot is surrounded by cliffs that have holes that look like small caves. In one of the caves lived several sacred snakes. It is called a sacred snake because according to the story, the snake is the incarnation of the temple shawl. The sacred snake of Tanah Lot was assigned as a temple guard.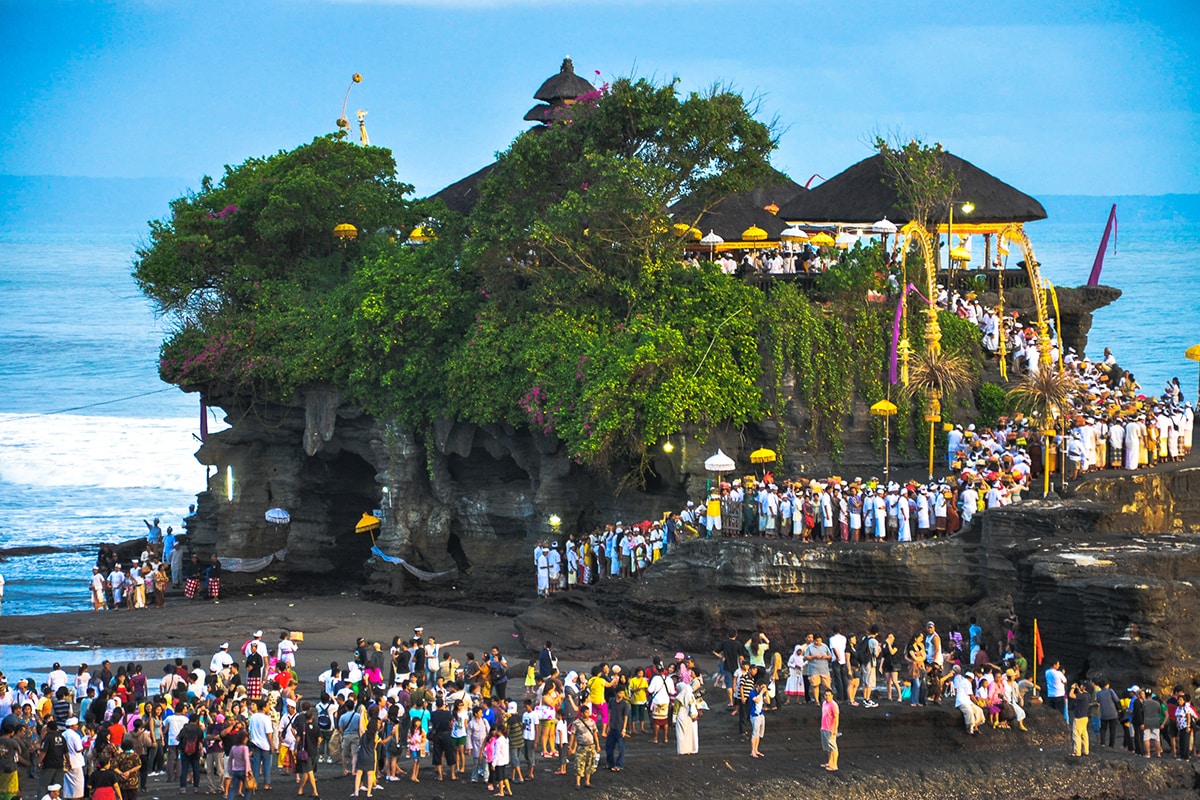 Interesting Things From Temples in Tanah Lot
Along the road to Tanah Lot you will find many inns. Starting from simple inns, villas to five-star hotels close to the beach that hold various events at night. The event includes a Kecak dance performance, a sunset dinner and a wedding party.
From the parking lot to the temple area, there are many shops selling various Balinese handicrafts such as sculptures, paintings, beach cloths, knick-knacks, and accessories. The price is relatively cheap for domestic and foreign tourists. Not only shops, there are also many food and beverage vendors, as well as small room rentals.
The location where Tanah Lot Temple is placed is actually unique. This temple was built in two different places. One temple is located on a large boulder, and the other is on a cliff jutting into the sea which looks similar to the tourist location of Uluwatu Temple. This curved cliff like a bridge connects the temple with the mainland.
Tanah Lot Temple is part of the Kahyangan Jagat Temple in Bali, intended as a place of worship for the guardian deity of the sea. It is safe to be around the temple area during low tide. Because at high tide, the temple will appear surrounded by sea water.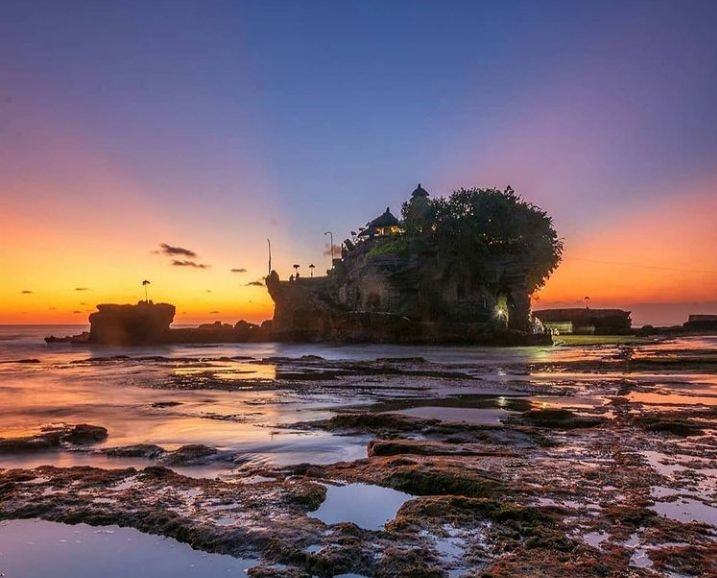 Best Time to Visit the Temple
Because the main attraction of Tanah Lot lies in the beautiful sunset view with the silhouette of the temple, the best time to visit is at 17.00 WITA or 17.00 WITA. Most tourists will spend vacation time at this attraction on average 1 hour 30 minutes.
Sunset times change every day, which is why checking the sunset schedule is very important to make it easier to find the exact sunset time.
Location
Beraban Village, Kediri District, Tabanan Regency.
Access
The distance is about 13 km to the west of the city of Tabanan. Less than 1 hour 20 minutes to reach Tanah Lot from Ngurah Rai airport.
Entrance ticket
There is an entrance ticket along with a parking fee that must be paid to enter the area.
Adult: IDR 20,000
Children: IDR 15,000
Motorcycle: IDR 2,000
Car: IDR 5,000
Bus: IDR 10,000