Slippery Stones Restaurant
17/05/2020 21:21
---
TELEPORTING TO GREEK IN SLIPPERY STONES RESTAURANT, BALI.
Enjoying your feast in a restaurant nuanced Japanese, Chinese, or Italian may have been mainstream for some people—probably—including you. Have you ever felt bored? Do you ever feel, like, you want to try something new such as a new atmosphere, but you are out of ideas? Don't worry, we recommend that you to try to go to the Slippery Stone Restaurant, Seminyak.
Slippery Stone Restaurant, Seminyak offers you a different atmosphere, theme, and foods! In this restaurant, you will find a wide selection of Greek specialties. How? Have you ever eaten Greek food before?
There's not only a typical Greek menu, Slippery Stone Seminyak Restaurant also uses themes and designs that will give you a dining experience like being in Greece. If you are on a vacation in Bali, there is nothing wrong to spend your time and fill your stomach in Slippery Stone Restaurant. Besides, you can also have interesting experiences, as well as new Instagram posts just by being here.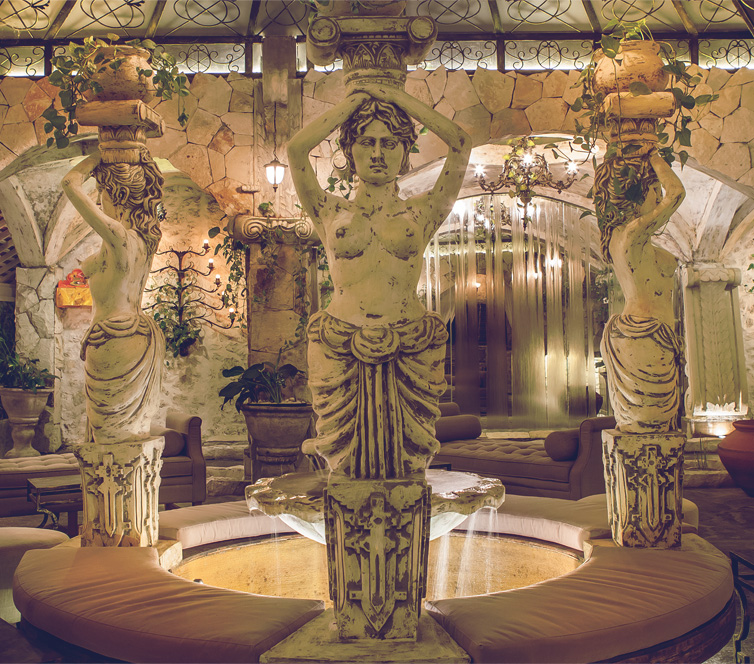 CONCEPT & ATTRACTIVENESS
Slippery Stone is a chic Greek restaurant, lounge, and bar. This restaurant has a unique and classy concept. There are pillars carved beautifully that will strengthen the Greek atmosphere around you. You can choose to dine indoors or outdoors in this restaurant.
In addition to the pillars and carvings typical of Greece, you will also find a variety of greenery in every corner of the restaurant and also statues of gods and goddesses that are perfectly carved and stand firmly there. Some of the details of these forms further enhance the concept of the restaurant room, make you feel more comfortable and pampered by the Greek atmosphere. No wonder if somehow you forget for a second that you are still in Bali. There is also a pond with a fountain that makes this place feel more luxurious.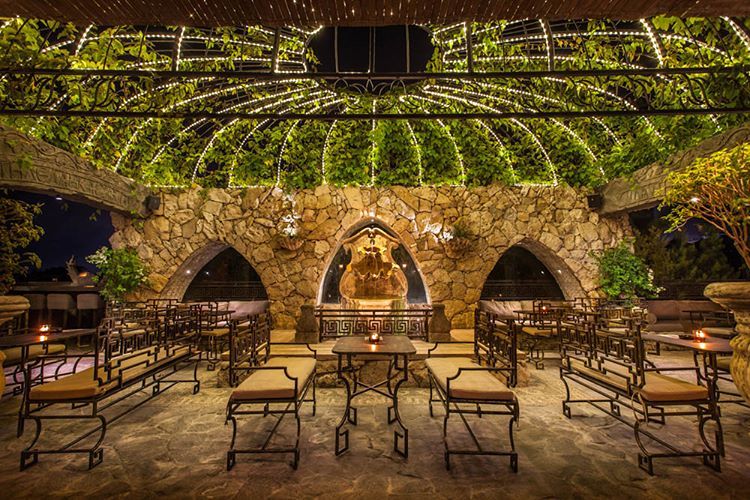 You can visit this restaurant with your friends or family or your couple. You can also create a romantic atmosphere at Slippery Stone with your partner such as choosing an outdoor area and enjoying the delicious meals accompanied by the views of the sky, especially when it comes night, you can see the sky full of stars.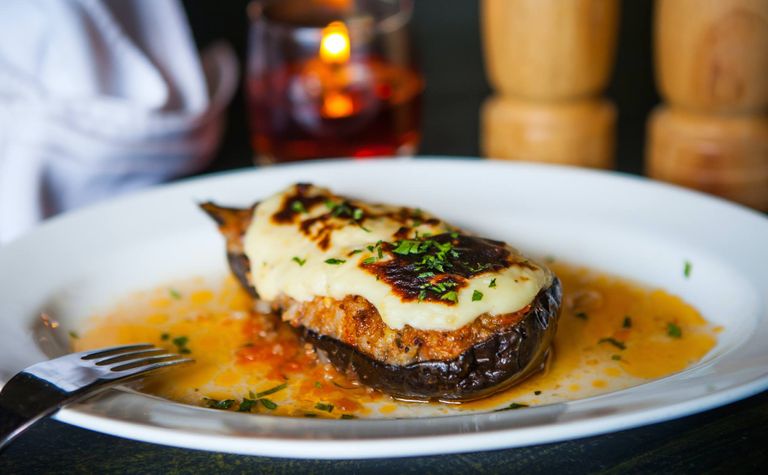 SLIPPERY STONE'S MENU
Slippery Stones does not only give an excitement of the Greek atmosphere, but the menu in this restaurant is also Greek foods and surely will spoil your tongue. They serve a variety of healthy and varied Greek foods.
Various menus with ingredients such as olive oil, lamb, beef, imported cheese, and high quality are combined with greens and some products that come from local (Indonesia's). Every dish isn't cooked with butter or fat! Slippery Stone Bali Restaurant uses olive oil to cook vegetables and salad dressing. Various menus are started from appetizers, main courses, to dessert, which are available for you.
Some menus that you can taste at Slippery Stone are various salads such as Tomato Salad, Greek Salad, Watermelon Salad. As for other menus, you can order a variety of chicken, lamb, beef, or seafood dishes. Worry not, if you happen to go here with your kids, Slippery Stones also provides a menu for children's such as Chicken Wrap, Lamb Wrap.
To accompany your food or your leisure time, Slippery Stone presents you with various cocktails, fresh juices, mocktails, tea and coffee, wine, and soft drinks. Make sure you choose each of your favorite menus to make your relaxing moments at Slippery Stone even more enjoyable!
The price of each menu here ranges from IDR 40,000 to IDR 500,000. Slippery Stone also gives you entertainment to accompany your precious time like live music from a DJ. On Sunday, there will be a live-action from a typical Mediterranean belly dance and fire dance.
LOCATION
If you are interested in spending your time and dining at Slippery Stone Restaurant, Seminyak, you can visit it on Batubelig Street Number 9, Seminyak, Bali. Slippery Stone starts operating from 6:00 to 00:00. In this restaurant, you are available to hold a Birthday Party, Wedding Party, and other celebrations.