Seniman Coffee Studio
27/11/2021 03:19
---
The best tourist destinations are often the most sought after, especially during the holiday season. There will be a lot of people, especially tourists who like to travel to prepare the perfect vacation plan. Often the island of Bali becomes one of the desired choices because there is so much beauty and uniqueness that cannot necessarily be found elsewhere.
Bali is known as Heaven on Earth because there are so many fun things to enjoy. Therefore, it is not surprising that many tourists enliven Bali, both local and foreign tourists. One of the activities that can be done while on vacation in Bali is visiting the best tourist attractions, such as the Artist Coffee Studio.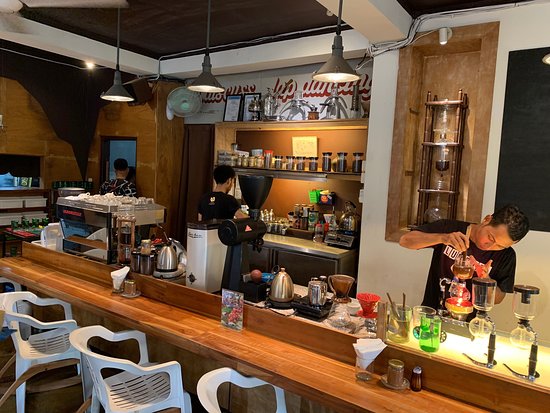 The Attractive Designs by Seniman Coffee Studio
As the name suggests, Seniman Coffee Studio Ubud is a combination of an art gallery and a coffee shop. Inside is very artistic with a touch of secondhand goods that are transformed into unique new items. Artists Coffee Studio was founded by David Sullivan and Rodney Glick. They don't play around with the name "artist" being the name of the shop. It is proven by the creative and artistic recycle-up themed interior.
Front view, this cafe building is the same as cafes in general, tourists will be amazed by the cafe interior. Apart from serving delicious coffee brewed on site, Seniman Coffe Studio also sells coffee beans and brewed tea. So tourists can take it as a souvenir or to brew it at home.
The chairs are neatly arranged. Uniquely, the chair is actually an ordinary plastic chair, but has been transformed into a rocking chair by adding a half-circle of wood on its legs. This kind of atmosphere is very suitable for tourists who want to feel a calm and artistic atmosphere.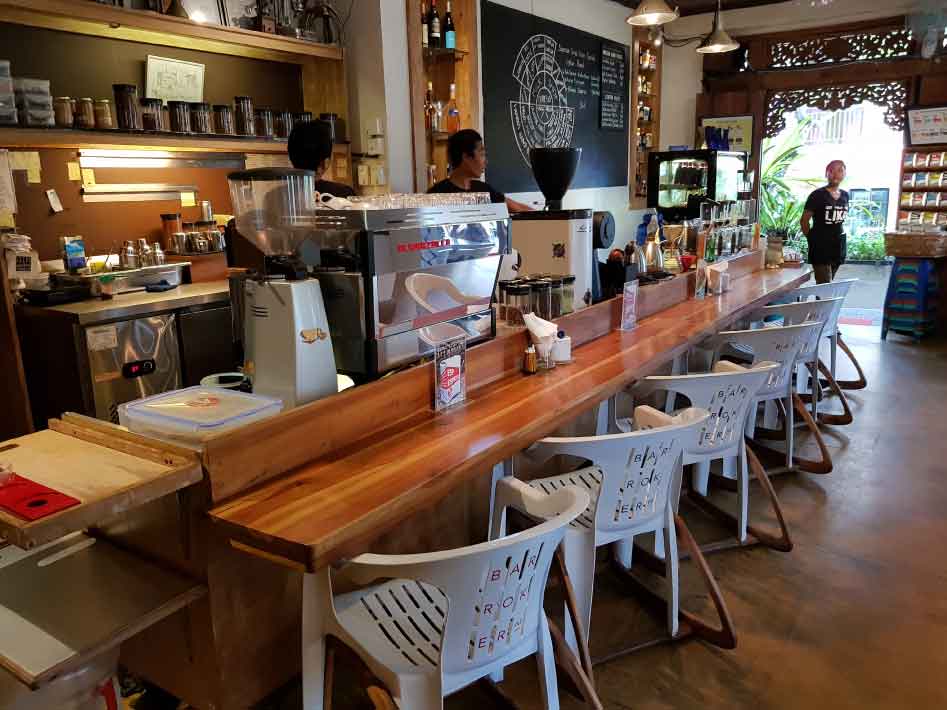 The Best Menu at Seniman Coffee Studio
The coffee variant menu at Seniman Coffee Studio Ubud is uniquely presented. This cafe also roasts its own coffee. Starting from selecting the best coffee beans, roasting the coffee beans to the brewing stage, this is done by expert baristas. The best coffee beans are always provided for free tasting in small glasses. The best coffee beans consist of 3 types of coffee, namely Sumatran coffee, Kintamani coffee and Kenyan coffee.
Coffee menu variants include caffe latte, americano, cappuccino, granita, float white, espresso and others. Tourists who don't like coffee also have ice menus such as fruity, tea-like flavors to various hand brew methods. Prices range from IDR 32,000 to IDR 55,000 per menu. Coffee Studio artists do not have heavy snacks. However, tourists drinking will be accompanied by sweet snacks such as traditional snacks.
Every drink menu that tourists order, the glass used is a recycled bottle and is served with an additional Nagasari cake. The recycled glass adds to the artistic nature of the coffee itself. There is one more thing, tourists who order coffee will be served by reliable baristas who mix tourist orders directly from the barista table. Tourists who sit at the batista table can also dig up knowledge about coffee to the barista.
Location
Seniman Coffee Studio Ubud is located at Jalan Sriwedari No. 5, Banjar Taman Kelod, Ubud, Kab. Gianyar, Bali.