Sandy Bay Beach Club
26/11/2021 02:40
---
Holidays in Bali will be very enjoyable because there is so much beauty and uniqueness that can be enjoyed. It is not surprising that Bali is always crowded by tourists who are not only local tourists, but also foreign tourists from abroad. Because the beauty and uniqueness of Bali has been recognized by the world.
There are many tourist attractions that must be visited when on vacation in Bali. The tourist objects mentioned are very diverse, ranging from natural attractions, cultural attractions, culinary attractions, to other popular and must-visit places. Every tourist can choose any place they want, one of them is Sandy Bay Beach Club.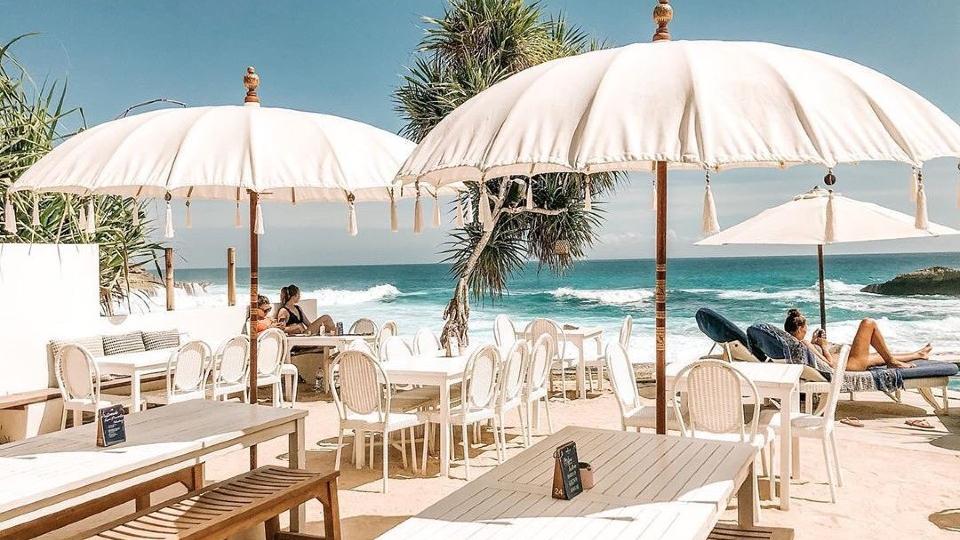 Romantic Atmosphere At Sandy Bay Beach Club
Nusa Lembongan Island, of course, is no stranger to tourists, this small island offers a variety of beautiful natural attractions that are tourist destinations, besides the natural beauty of the underwater being a popular diving and snorkeling destination.
Not surprisingly, the island of Nusa Lembongan is always crowded with tourists. In addition, there is also the Sandy Bay Beach Club, which is a bar and restaurant on the coast of Nusa Lembongan, which offers a place to relax and hang out while enjoying delicious dishes. Sandy Bay Beach Club Nusa Lembongan will be the ideal place to relax and offer cheaper food and drink prices compared to beach clubs in Bali
The beachside bar atmosphere offered by Sandy Bay Beach Club Nusa Lembongan, offers a beautiful natural view of the beach, wrapped in the natural beauty of the blue sea, hill cliffs, and rocks, a combination of spectacular natural beauty. Relaxing, hanging out and chatting with your beloved partner, or gathering with family, will offer a very pleasant atmosphere.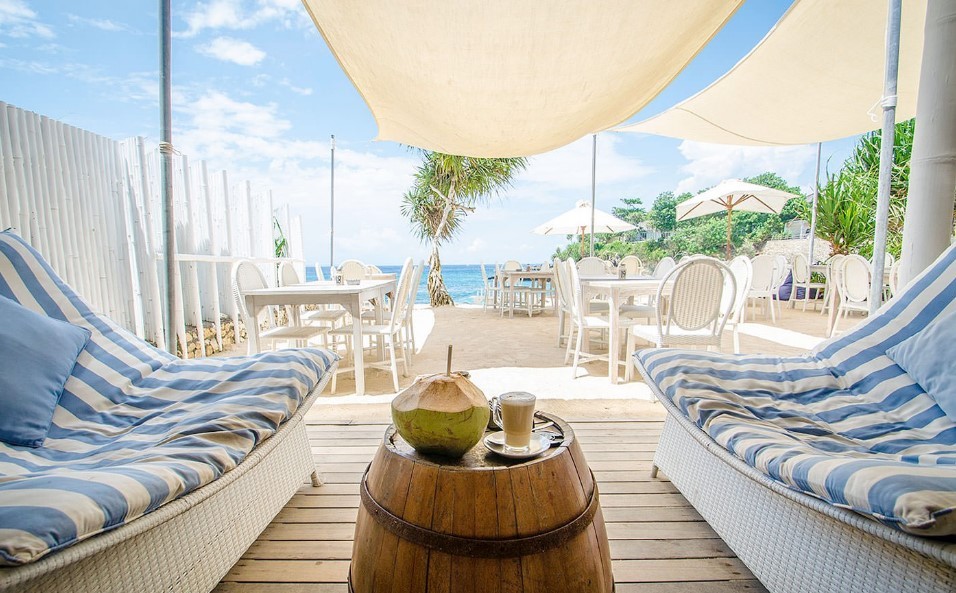 The Best Moment to Visit Sandy Bay Beach Club
Sandy Bay Beach Club Nusa Lembongan has indoor and outdoor areas, for indoor it is designed to be semi-open, so that tourists can still enjoy the fresh sea breeze, this place looks minimalist in design, furniture such as chairs and tables are made of wood. Various dishes are offered here ranging from light snacks, various drinks and other lunch and dinner menus, both Indonesian, Asian and also international menus, the prices offered are quite reasonable.
The beachfront nature offered makes tourists free to sunbathe, or relax on a lounger enjoying the natural beauty of the sea, tourists can also take a walk to enjoy a more private beach atmosphere to feel the fresh beach air. However, this beach area is not ideal for swimming, however Sandy Bay Beach Club Nusa Lembongan has a beachside swimming pool, so tourists can relax in the pool, chat and enjoy the natural sea view.
The best time to enjoy the atmosphere in this place is at dusk, watching the beauty of dusk with a beautiful panorama of the sunset, the evening sky that looks fantastic, it can accompany tourists' meals with family or loved ones. The romantic atmosphere at night is no less interesting, so it's not surprising that Sandy Bay Beach Club Nusa Lembongan starts to get crowded when sunset arrives until the evening.
Open Hours
Sandy Bay Beach Club Nusa Lembongan opens at 08.00 and closes at 23.00 WIB. This Beach Club is located adjacent to Mushroom Bay beach.