Revolver Espresso Café, Bali
26/09/2020 16:41
---
Try visiting one of the hidden coffee shops down an alley in Seminyak, Bali. Its name is Revolver Expresso Seminyak, a hidden coffee shop that offers a unique experience while inside. Although hidden, this place is quite famous as a provider of delicious coffee in Bali.
The place is behind the clothing store with the inscription Revolver on the wooden door and the cafe logo lights. From the outside it has a black domination color, depicting wings and cactus trees. Once the door is opened, the well characteristic smell of coffee wafting from behind the door immediately welcomes you.
The unique decor is like being in the 80s cowboy era with vintage posters, old newspapers, and air rifles. It will be even more interesting when you know that almost all of the interior uses wood. However, this coffee shop is quite narrow to be visited by crowds.
Uniquely, Revolver Expresso Seminyak roasts and mixes its own coffee using La Marzocco Coffee Machines and Mazza Grinders. So that their coffee is very distinctive. There are countless restaurants in Bali that offer coffee from here.
Every day, this coffee shop can sell cups of coffee. This coffee shop, which has two floors, has a table filled with foreign banknotes and coins that read a message for Revolver Expresso Seminyak. The money is on the long table on the first floor.
You can bring your Revolver Expresso coffee home because it also offers coffee products that you can take home. It is definitely a perfect fit for a coffee addict like you.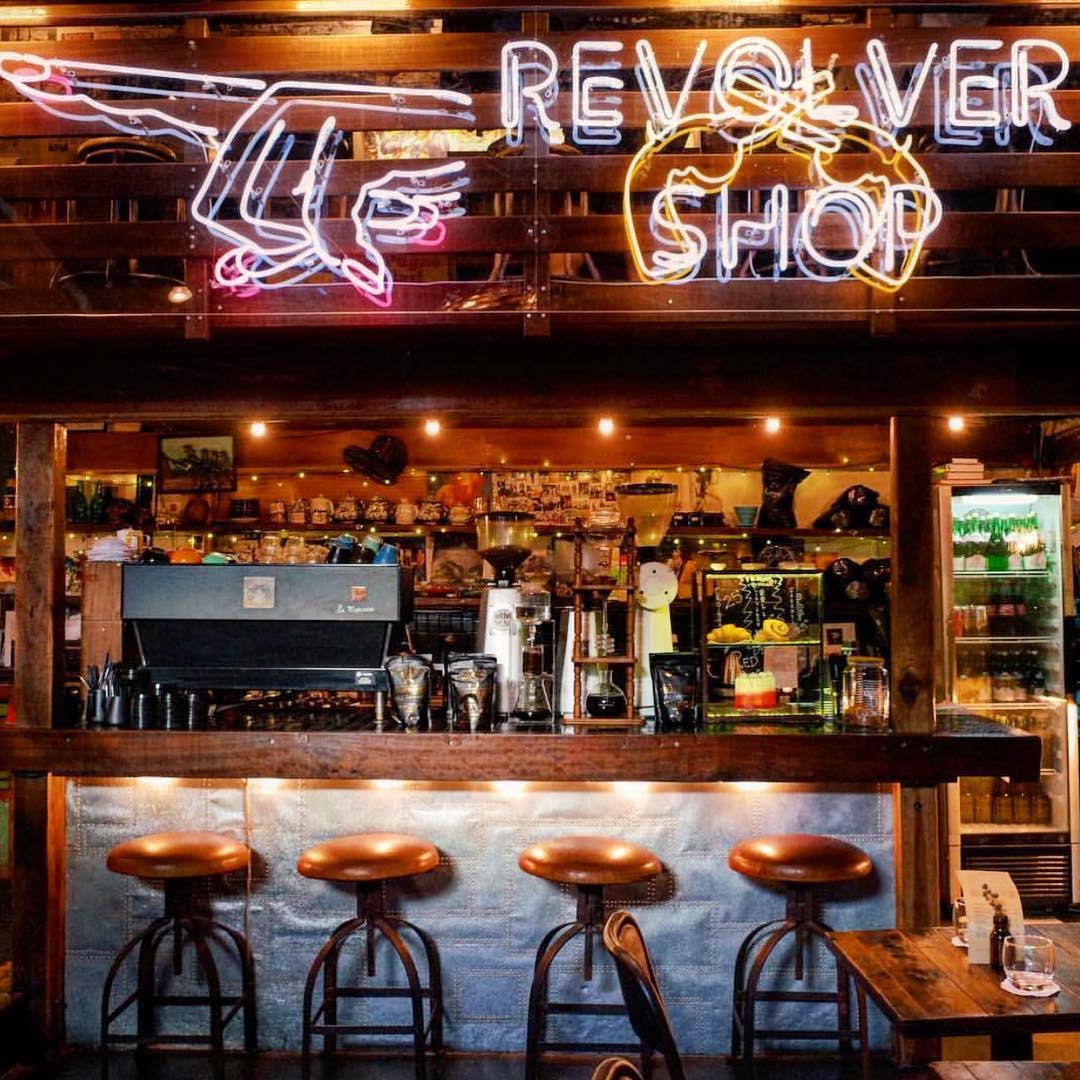 Other Menus at Revolver Espresso Seminyak
Apart from providing great coffee and snacks, Revolver Expresso serves a breakfast menu. So it's no wonder that this small coffee shop has customers who keep going back and forth to buy breakfast or just gather while drinking a glass of coffee.
The breakfast menu and lunch menu (11 pm - 6 pm) are made of vegetables and fruits. The menu includes a wide selection of bites, salads, and various types of burgers and stuff. Some menus are very vegetarian friendly, such as Bulls Eye and Magnum.
Bulls Eye is a cereal consisting of homemade muesli consisting of superfood goji berries, cranberries, and almonds, coconut raisins. The presentation is mixed with almond milk and fresh fruit pieces. And Magnum itself is a vegetarian burger.
Magnum contents consist of grated vegetables, cheese, tomatoes, falafel, tzatziki sauce, lettuce, and avocado. You can replace the burger bun with a gluten-free bun for an additional IDR 10,000. The way it is served is very challenging, the grated vegetables are very much filled with sauce and patty.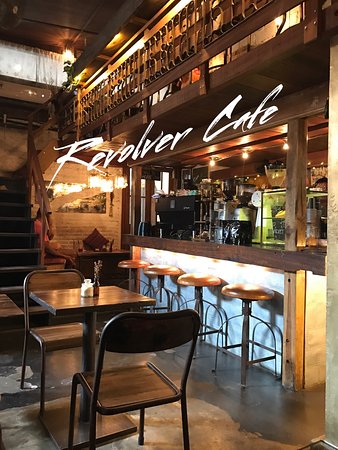 Location and Accessibility
The price range for heavy menus at Revolver Expresso starts from IDR 40,000 - 65,000. Like standard expresso prices in general, the coffee price ranges from IDR 22,000 - 32,000. Not only providing coffee but here also provides various types of drinks that are no less interesting.
This unique cafe is located at the address of Kayu Aya Street, Gang 51, North Kuta, Seminyak.