Pengeragoan Jembrana Beach
30/01/2021 21:37
---
The beach is one of the favorite tourist destinations that tourists often go to when in Bali. Lots of beach tours are on the island of Bali, one of which is the Pengeragoan Jembrana Beach. This beach may not be as popular as Kuta beach or Sanur Beach. However, this does not mean that Pengeragoan Beach has no beauty.
Pengeragoan Jembrana Beach has not been widely known by many tourists, so the atmosphere of this beach feels lonely, so this place is perfect for those of you who are looking for a calm and peaceful atmosphere. The panorama around Pengeragoan Beach looks very exotic. The expanse of sea water looks blue and clear and has quite large waves. The sand on Pengeragoan Beach is black.
The natural conditions here are so beautiful and still natural. There are many things you can do on this beach. You can take a walk by the beach, relax while feeling the freshness of the beach breeze. On Pengeragoan Beach there are many coconut trees. So, if you are on this beach you have to be careful, maybe you can fall in a coconut.
Various Activities at Pengeragoan Jembrana Beach
Pengeragoan Beach does not have facilities in the form of a place to sit to relax. However, you can still sit on the beach sand or you can bring your own mat. Because the waves on Pengeragoan Beach are quite large, you can surf.
The beach area is quite wide, you can also make it as land to play volleyball or soccer. Or those of you who want to fish here, then there are spots that you can make fishing spots.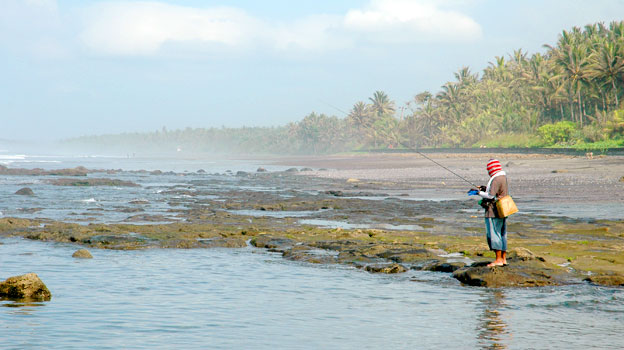 Pangeragoan Beach will be very interesting when dusk arrives. This beach is one of the sunset beaches, where at dusk, you will be treated to a beautiful sunset view.
Around the Pengeragoan Jembrana Beach area, there are lots of food and drink sellers. So, when you are on vacation here and want to fill your stomach, you don't need to be confused about finding a merchant.
There are so many things you can enjoy while on vacation at Pangeragoan Beach. Although, it does not have sufficient facilities, it does not reduce the beauty of Pengeragoan beach itself. The scenery is amazing, you can set it as a background for selfies.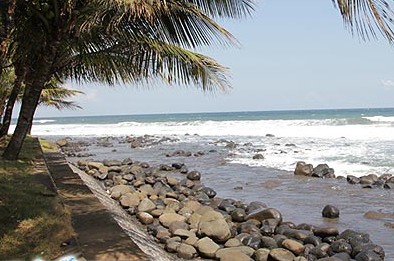 Location and Accessibility
For those of you who are curious about Pengeragoan Jembrana Beach, then you can just go to the location, namely in Pengeragoan Village, Pekutatan District, Jembrana, Bali. It is located on the edge of Jalan Gilimanuk - Denpasar.
For those of you who pass the Gilimanuk - Denpasar route, just west of the border between Jembrana and Tabanan regencies, then you can see a beach that has many coconut trees around it. Located on the main road Gilmanuk - Denpasar, this beach is very suitable to be used as a place to rest.
The location of Pengeragoan Beach if it is from the city of Negara, which is the capital of Jembrana Regency, is approximately 39 kilometers away with a travel time of about 53 minutes using a motorized vehicle. If you come from the city of Denpasar, it is approximately 58 kilometers and from Ngurah Rai Airport about 68 kilometers.
You can enter Pengeragoan Beach into one of your list of tourist destinations. You can plan a vacation on this beach with your friends or with your family.