Omnia Day Club
04/06/2020 17:23
---
THE NEW BABY BORN DAYCLUB THAT IS NOT SAFE FOR CHILDREN
Bali is one of the famous islands in the world because of the richness and exoticism of nature and culture attract many people. Not only beaches and natural views, but there are also many clubs and tourist attractions on this island. Because of that, Bali is nominated as an entertainment center in the World. One of the famous clubs on this island is Omnia Bali Day Club.
Omnia Day Club was opened on February 2, 2018. You can spend time in this Beach Club that is located in Uluwatu region by hanging out, swimming and eating various menus while watching the views of the Indian Ocean.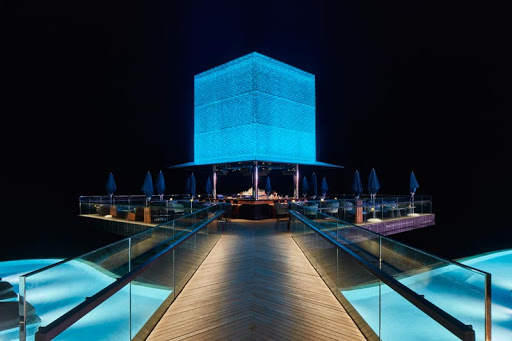 THE ATTRACTIVENESS OF OMNIA DAYCLUB BALI
With an open concept and a beautiful view of the Indian Ocean, this day club is always crowded, especially during weekends and national holidays. Omnia Bali is divided into three bars, they are Main Bar, Pool Bar and Cube Bar. To get access to enjoy the view while relaxing at the bar, the visitors are expected to close minimum order requirements at the restaurants, the fees reach IDR 1.000.000, or maybe more.
Sun beds that are available in the swimming pool area are prepared for visitors who want to lie down while pampering their eyes to enjoy the beautiful sunset in Bali. After sunset, tourists will be presented with a view of a sparkling silver cube called the Cube Bar. The Casual Lounge is also provided to chat and have fun with family, couples, or coworkers.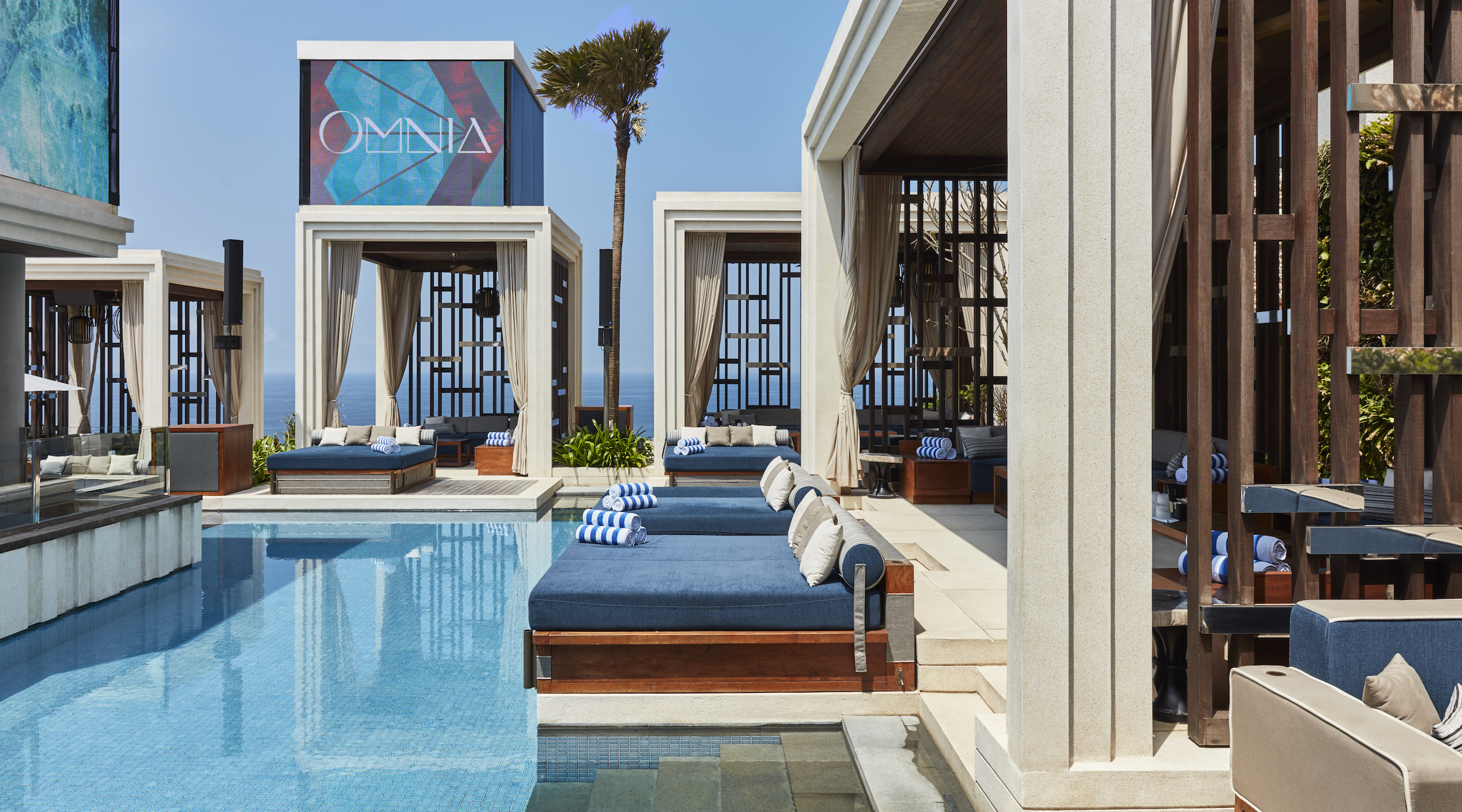 To relax in the bed and sofa, visitors must spend about IDR 2.000.000 for a minimum order menu. In addition to the lounge, there is Sake no Hana Restaurant which is a modern Japanese restaurant. This restaurant carries the concept of an elegant restaurant equipped with views of the Indian Ocean that can be seen directly from the edge of the restaurant.
Besides, there are exclusive bungalows equipped with private pools and Cabanas VIP here to offer luxurious and exquisite facilities that are perfect for you to take good photos for your Instagram. This place can also be a place for photo hunting by photographers because besides there are so many cool spots, the position of the day club looks like floating on the edge of Uluwatu Beach.
Keep in mind, Omnia Day club Bali is a Day Club that is not intended for children. To be able to enter Omnia Bali, visitors must be at least 21 years old.
When you enter the location, your ID Card will be checked by the officer. If you are a foreign tourist, you can show a passport instead. This place has become an adult tourist attraction, in the form of parties, clubs, and bars with views of the Indian Ocean.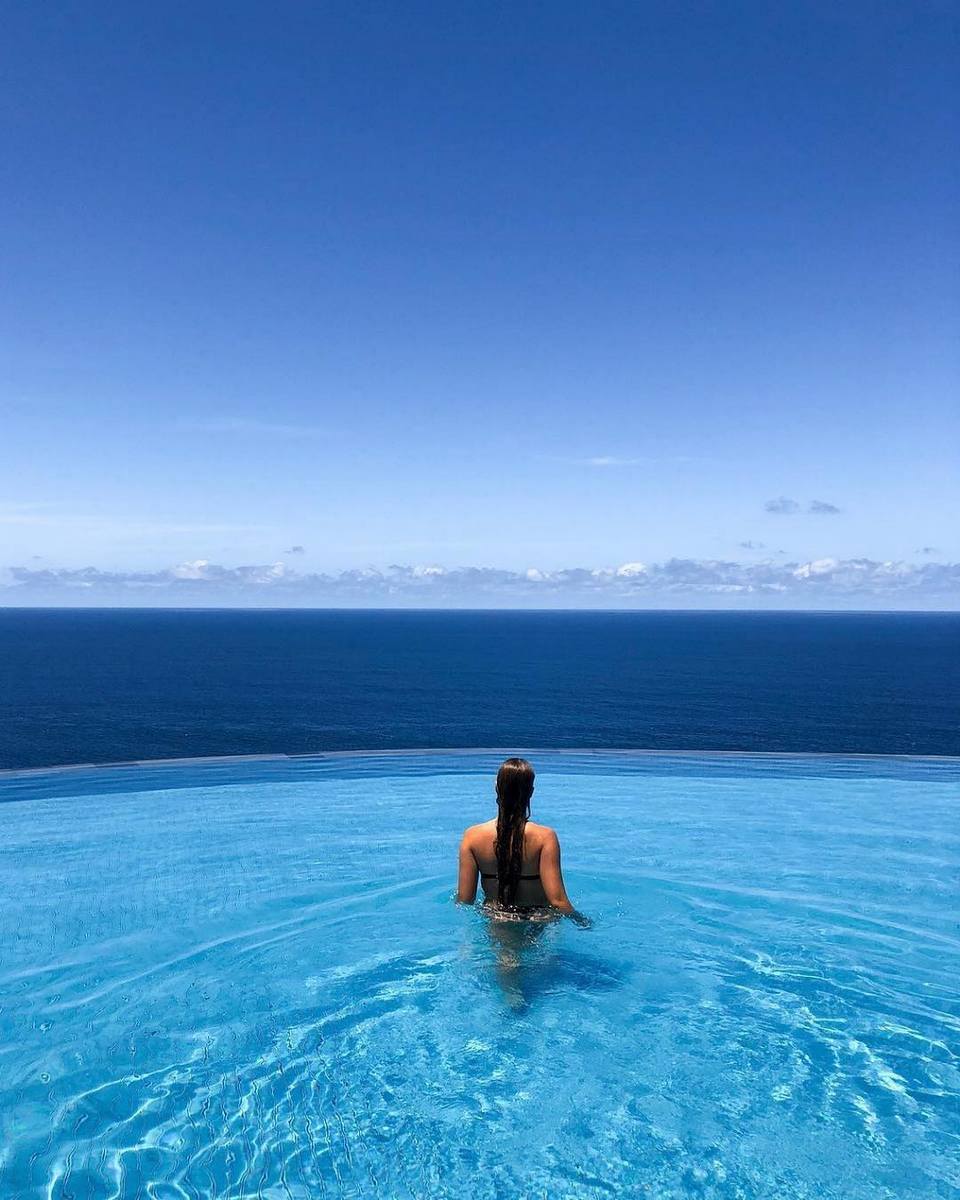 LOCATION AND ACCESSIBILITY
Omnia Bali is located at Belimbing Sari Street, Banjar Tambiyak, Pecatu Village, Uluwatu, Bali. For visitors who come from outside of Bali, you need to travel about 30 minutes from Ngurah Rai International Airport to get to this day club.
Apart from Ngurah Rai International Airport, you can reach this location for 15 minutes from Jimbaran Bay near Uluwatu Temple. There will be no public transportation and taxi that you can ride to get to Omnia Dayclub Bali. It is recommended that you use a private vehicle or rent a car in Bali. The price of admission for Omnia Bali depends on the artist or DJ who is holding an event there.