Marigold Field Bali
15/05/2020 20:54
---
SWIMMING IN THE OCEAN OF FLOWERS IN MARIGOLD FLOWER FIELD, BALI. 
There is no "Boring" when it comes to Tourism in Bali. No matter how many times you have been to this island, Bali always offers something new for tourists both foreign and local to enjoy. The development of technology and information makes new places and unknown places become so much popular in instant. As is the case with or Marigolds (Gemitir) Field in Bali.
This Gemitir or Marigold Flower Field is quite a trend and one of the new destinations in Bali. Not only for foreign tourists but also for local tourists and even the local residents. On Bali Island itself, there are a number of places as marigold garden flower fields to grow, some are located in the village of Belok, Petang District and Temukus village, Rendang District, Karangasem Regency. In this article, we will explain about Marigold Field in Temukus Village.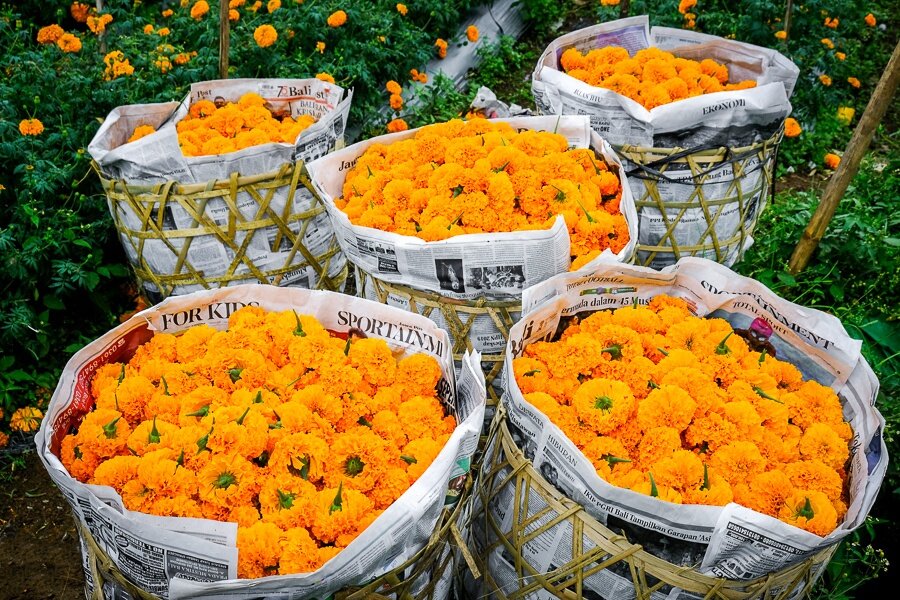 MARIGOLD FIELDS IN TEMUKUS VILLAGE. 
Marigold Field in Temukus Village, Karangasem is nearby to the Besakih temple. If you happen to schedule a tour in Bali to Besakih temple, you are obliged to package your tour to Temukus village. This place is famous for the beauty of the flowers that bloom with yellow-orange petals. If you notice, there is one special flower that is used in every ritual in Bali, and it's called Marigold flower. The locals used to call it 'Gemitir'. Imagine how nice it would be to be in the middle of a Marigold garden. Many of the villagers plant flowers, so you will easily find a garden here, but don't forget to ask for permission from the locals before you entering their garden.
One more important tip for you, it is better to visit this place before the harvest season so you can see the garden full of flowers. When is it? It is usually before the religious event. You can check from your Balinese friends about the perfect date to visit Marigold Garden. Considering Bali uses a leap calendar, so there is a change in the date of celebration every year.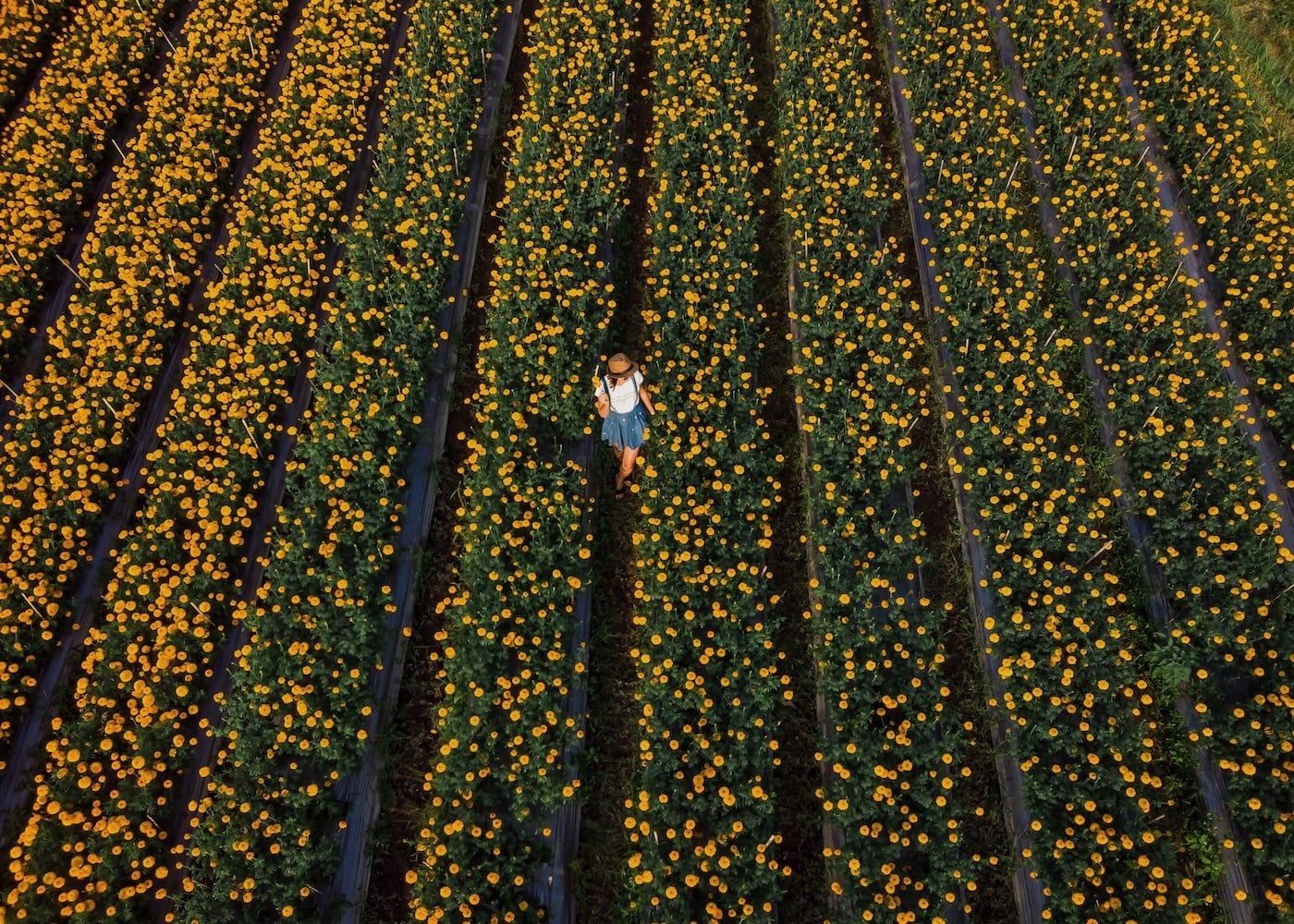 LOCATION AND ACCESSIBILITY 
The location of Temukus village itself is about 1,150 meters above sea level so that the village has a cool atmosphere and sometimes cold climate. Fog often envelops in this village, as far as the eye can see the expanse of beautiful flowers will leave you amazed and stay there for a longer time. The very interesting spot in this Marigold Garden is not only Gemitir or Marigold Flower. There's also the Kasna Flower field which is the edelweiss of Bali.
The natural beauty that is served by Temukus village are starting from Marigold flowers, Kasna flowers, the beautiful valley views with fresh and cool and airy, and it's far from the crowds, making it an ideal tourist destination to refresh and release fatigue, burden, and stress you have been carrying. If you like hunting photos for Instagram in Bali, Temukus village is an ideal destination.
The access road to the Marigold field in Temukus village is not bad and so accessible, but the road is small enough for two cars to pass, so you have to be careful. The traffic to Temukus village is not crowded, it is quite rare for vehicles to pass, but in the future, it might be crowded, not only by the flower harvest but also tourists both locals and foreigners who visit to enjoy the expanse of Marigolds. If you have a plan to go here, you recommend that visit, Besakih Temple, then you can ask the local residents about the directions to Temukus Village (2 KM). Since the road is not very wide, it would be better for you to go there by motorcycle or a small type of car.