Lakeside Cottages Kintamani
12/07/2020 23:59
---
Bali has an amazing diversity of tourist attractions. No wonder this beautiful island is able to attract many tourists from all over the world every year. Almost all international tourism media put Bali at the top of the most desirable tropical tourist destinations.
Bali is famous for its traditions and culture. Many tourists come to visit various temples that have their own characteristics and uniqueness. However, as a tropical tourist paradise that is complete with mountains, valleys, agricultural land, beaches, even to a beautiful panorama at the bottom of the sea, Bali also offers many other things that are not less interesting. Temple buildings, customs and habits of the Balinese people that are very thick with its culture make Bali always alive for National Tourism.
Lakeside Cottages
Lakeside Cottages Kintamani is one of the famous tourist destinations in Kintamani, the tourist spot is known for its beautiful views of Lake Batur, while you stay at Lakeside Cottages Kintamani you can view the beauty of the lake because the location of this Cottages is right beside Lake Batur.
You can also get a quiet atmosphere while staying at Lakeside Cottages Kintamani. The natural feel combined with the tranquility 
makes this hotel as the right means to unwind from your busy schedule.
 
 


Facilities
The hotel does not fully rely on the location of Lake Batur as an attraction for its guests. At the same time, this cheap hotel in Bali also provides services equivalent to a 3-star hotel. In addition to the beautiful Lake Batur, you can choose to throw yourself into a pool or just relax on the edge, besides that you can also choose to take a hot bath Because the Kintamani area is also famous for its natural hot springs.
To feel the sensation of soaking in hot water, you don't need to leave the hotel. The hotel management also provides a variety of other supporting facilities such as Yoga and several types of water sports.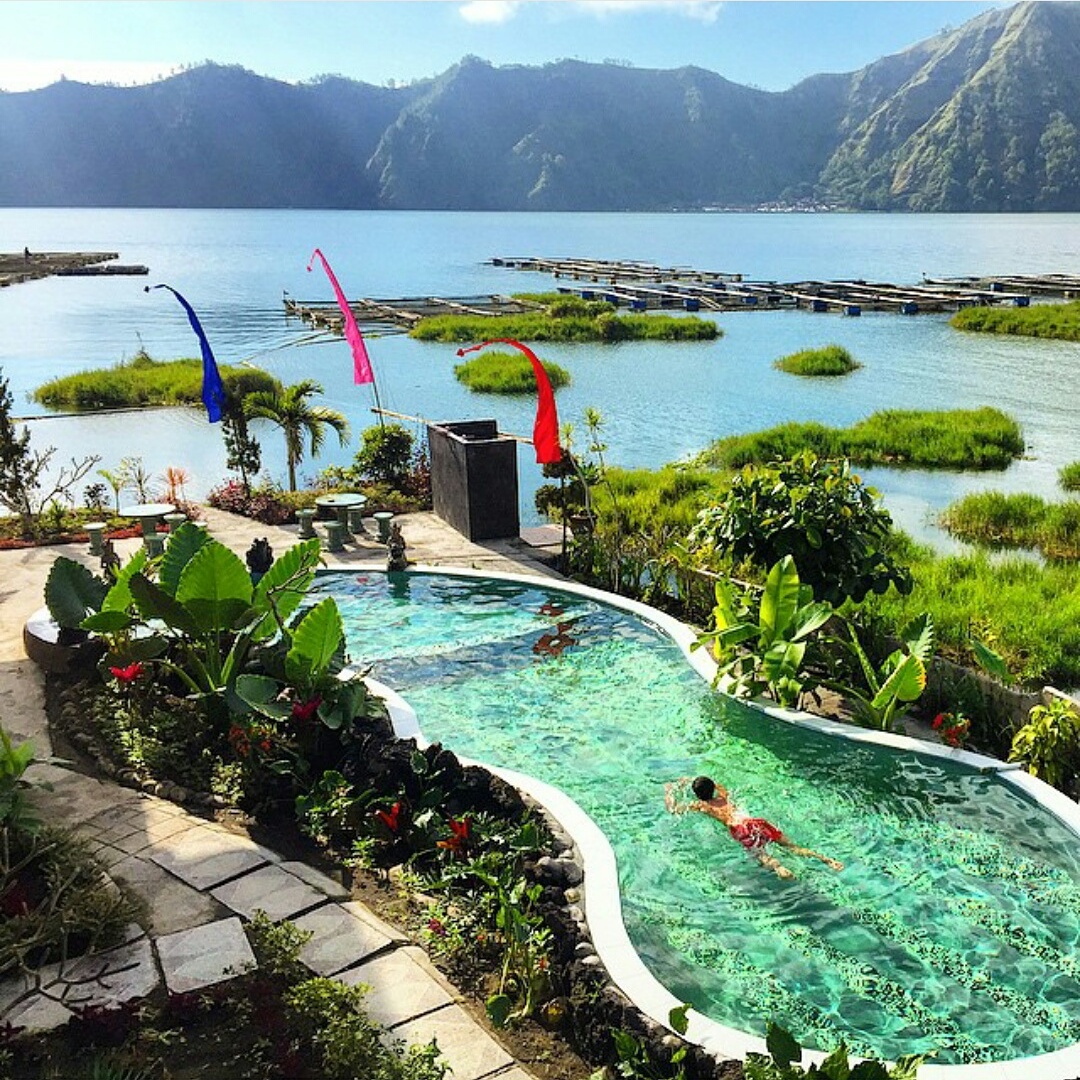 The room options provided by Lakeside Cottages Kintamani are also varied. You can choose a standard, superior, deluxe, or family room. Each room has complete facilities. You will get a breakfast menu accompanied by coffee or tea. In addition, toiletries have also been provided by the hotel.
Rates for staying at this hotel are also very cheap. The standard room which is the cheapest room can be occupied at a cost of IDR 300,000 per night. While staying here, you can also use your time to try various tourist activities such as Hiking. In this hiking activity, you can try the experience of climbing Mount Batur and watch the sunrise from the summit.
Other options, there are a variety of water sports activities on Lake Batur. These include fishing and riding Canoe activities. All these activities can be obtained by using additional services from the hotel.
Location and Accessibility
Lakeside Cottages Kintamani is located on Toya Bungkah Street, Kintamani. The manager of Lakeside Cottages Kintamani provides airport pick-up services.
The location is also close to several other tourist sites, including Kintamani Edelweiss Park, Batur Mountain Hill, Abang Kintamani Mount, Bukitsari Kintamani, and Batur Sari Swing.