La Lucciola Seminyak Restaurant
01/01/2023 14:24
---
Holidays in Bali are the most awaited thing, especially during holidays. Not only local people but also almost all people from all over the world who attended visited Bali. All of this is of course because of all the beauty that Bali has. One of the most famous beauties and praised by many tourists is the beauty of the panorama.
One of the tourist objects that offer a variety of interesting attractions is the Seminyak area. Moreover, there are good places to eat that are recommended to visit. That place is La Lucciola Restaurant.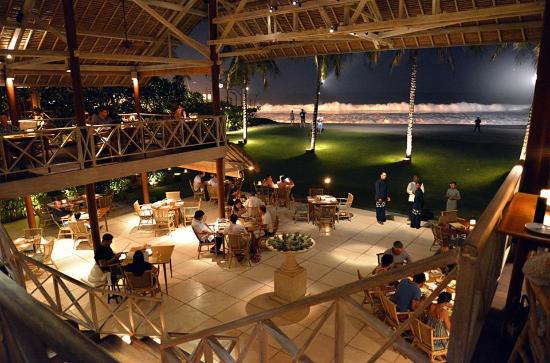 Interior Design of La Lucciola Seminyak Restaurant
La Lucciola restaurant has a unique and beautiful building design. This building is built 2 floors with a thatched roof. With a rustic concept that can be seen from the tables and chairs and other furniture which are unpainted wood elements, it gives a real rustic impression. On the ground floor, tourists will be able to see beautiful sea views and beautiful sunsets.
On the top floor there is a room that is a favorite of tourists. Because this top floor displays an interesting view. Where is the best view from the beach to the vast ocean which looks golden when exposed to sunlight. In addition, the wind on the floor was blowing harder. The wind makes the body feel cool when exposed to the heat of the sun during the day.
La Lucciola restaurant also provides an outdoor space, where tables and chairs are provided in a large courtyard overlooking the coastline which is an attractive treat. Especially at night, this place will look prettier with the lights installed to enliven this restaurant. Candles and torches will decorate the building of the La Lucciola restaurant, replacing the setting sun. The light is designed in such a way that it looks like a firefly. That way it will match the name of this restaurant, namely La Lucciola which means firefly.
Delicious Menu at La Lucciola Seminyak Restaurant
La Lucciola Restaurant is a restaurant serving a variety of international and Mediterranean cuisine. The food menu served is not always the same. Every day, this restaurant offers a different and changing menu. It provides a wide selection of food menu for visitors. So that visitors will not feel bored with the menu to choose from.
In the morning, a warm atmosphere will be felt in this restaurant. Visitors who come to dominate this restaurant are usually visitors who have breakfast with their families. This restaurant also provides dessert, a kind of sweet Italian pastries.
At night, the atmosphere in this restaurant is also increasingly transformed into a romantic atmosphere. So at night, this restaurant is the right place for couples to come and have dinner here. With the dim light that illuminates the restaurant, it creates a romantic dinner atmosphere. Coupled with the night breeze that blows, it makes the romantic atmosphere comfortable and cool.
Location
La Lucciola restaurant is located at Petitenget Beach, Jl. Ara Wood, Kerobokan, North Kuta, Seminyak, Kuta, Badung Regency.
Opening hours
Every day from 9am to 11pm.