Ku De Ta Beach Club
29/12/2021 05:53
---
Holidays in Bali are the most awaited moment for many tourists. Both local tourists and foreign tourists from all over the world want to visit Bali during the holidays. Many tourists who want to spend vacation time to enjoy all the beauty and uniqueness that exists on the island of Bali.
Many interesting and fun things can be found while on vacation in Bali. Especially the opportunity to be able to visit every tourist attraction in Bali, ranging from natural attractions, cultural attractions, and various other fun entertainment places. One of the places that most tourists want to visit while on vacation in Bali is Ku De Ta Beach Club.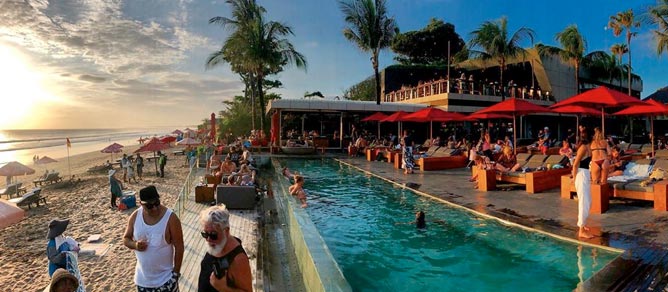 The Popular Attractions, Ku De Ta Beach Club
Ku De Ta, is a popular beach club in Bali. Ku De Ta Beach Club Seminyak is included as the best bar in the world. So it's no wonder this beachside bar is always crowded with visitors, especially foreign tourists. Ku De Ta in Bali has a beach club concept with a modern theme that gives the impression of a high class restaurant. From the first moment you enter, you will be presented with wooden furniture and red umbrellas. Inside the bar is a semi open concept. Sofas and tables are neatly lined up. A gust of wind from the beach will accompany you to relax with friends. At night, Ku De Ta will be decorated with lights that will accompany your fun hanging out.
Entertainment in the form of live performing music echoed not so loudly, from morning to dusk. So that what makes Ku De Ta Beach Club Seminyak a meeting place will not be disturbed. However, if at night Ku De Ta will be shrouded in the echo of music that is quite loud. Various types of music are echoed, including blues, house music inspiration moment, pop, classic and hip hop.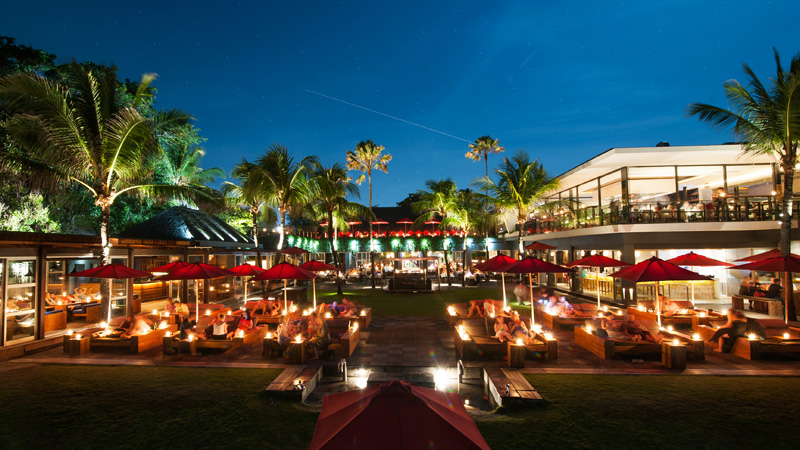 The Best Food Menu at Ku De Ta Beach Club
There are many variants of the menu that are ready to accompany your hangout. Starting from a light menu, heavy food, various juices and of course alcoholic beverages. To save, you can order the package menu. Package menus can contain a variety of food & drinks as well as cheaper prices suitable to accompany hanging out with friends or colleagues.
The heavy food menu includes sushi, pizza, burgers, spaghetti, Balinese rice and so on. While the drink menu, there are juices, cocktails, mocktails, wine, champignes and others. For the price, quite expensive. It's better to prepare an excess budget if you want to hang out at Ku De Ta. Estimated, you can spend around IDR. 400,000 for 2 people for alcoholic drinks only. Ku De Ta itself has a beach view with the Indian Ocean. There are many spots at the beach club bar that directly face the sea. If you come at the right time, you can enjoy the sunset while relaxing with friends.
Location
Jalan Kayu Aya No. 9, Seminyak, Kuta, Badung Regency. The location is close to Seminyak Beach. Ku De Ta is located in a bustling area of ??Bali. No wonder this bar is always busy and strategically located with natural attractions.