Koral Restaurant Bali
21/05/2020 16:12
---
UNDERWATER DINING IN KORAL RESTAURANT, BALI
Koral Restaurant is a restaurant with a concept where the main room is under a saltwater pool that is equipped with various beautiful coral reefs and a variety of beautiful marine fish. This restaurant is located within the complex of The Apurva Kempinski Bali, a five-star resort that is located at the end of a small hill in the elite area of Nusa Dua. This dining venue is also the first to carry the concept of underwater dining in Bali, and the second in Southeast Asia after The Ocean Restaurant Singapore.
Similar to the other Apurva Kempinski Bali (which opened in the upscale Nusa Dua Bali area in February 2019) Koral took the inspiration design from the tropical characteristics of Bali and the majestic Majapahit empire, which brought prosperity to the whole of Indonesia from the 13th to the 16th centuries.
In the Inside, teak ceilings and walls made of traditional red clay bricks (Majapahit royal building blocks) frame aquamarine views through windows and underneath, elegant and popular black and white tile tiles in the palace further add to the historic impression grandeur. Outside the aquarium window and other world glass-roofed tunnels, tropical fish spin in a kaleidoscope of color, creating a stunning backdrop for the spectacular cuisine that awaits.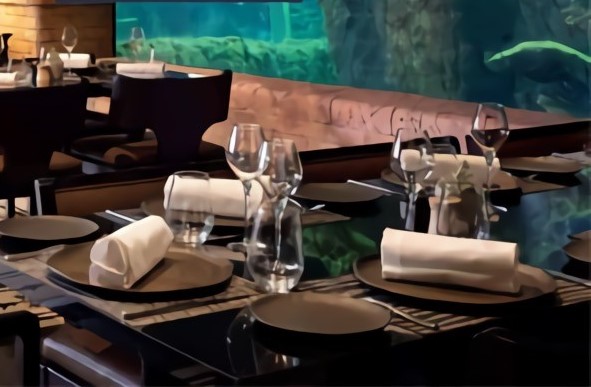 KORAL RESTAURANT'S MENU
There are two dining areas that you can visit. The first is a regular spot with rows of sleek-designed wooden dining tables, which face a row of large aquarium windows, and the second is an aquarium glass aisle with a limited number of dining tables. You are recommended that make a reservation to occupy the table there.
Dining in Koral Restaurant seems to make you feel like you are under the sea for real, surrounded by various sea animals that play in clusters of rocks. With the directives of Executive Chef Imam Fayumi's, this restaurant serves a variety of the best seafood from all Indonesian waters, combined with other original local fresh ingredients Bali and several other regions in the country.
Some mainstay menus that you should try at this restaurant are; Bedugul Tomatoes. It's consisting of a mixture of tomatoes and fresh vegetables sprinkled with grated mozzarella cheese; Lump Blue Crab. It is a crab salad with delicious Granny Smith apples; Prawn & Lime that combines jumbo shrimp filled with spicy dabu-dabu sauce.
Koral Restaurant also offers a special set a menu consisting of four dishes whose creations are made seasonally (Spring, Summer, Autumn, Winter), providing the best ingredients in each season. Do not forget, a variety of the best wines also served to complement the special dining moments.
Koral Restaurant also has a bar facility that serves a unique cocktail line. Don't forget to try Spiced Ink Mojito as a local cocktail blend. Its composition is very unique, which is a mixture of rum flavored with the extraction of squid ink, citrus fruits, ginger, and orange leaves. The sensation of sparkling with hints of the spice is the thing that is most remembered and admired by everyone who has ever gulped it down.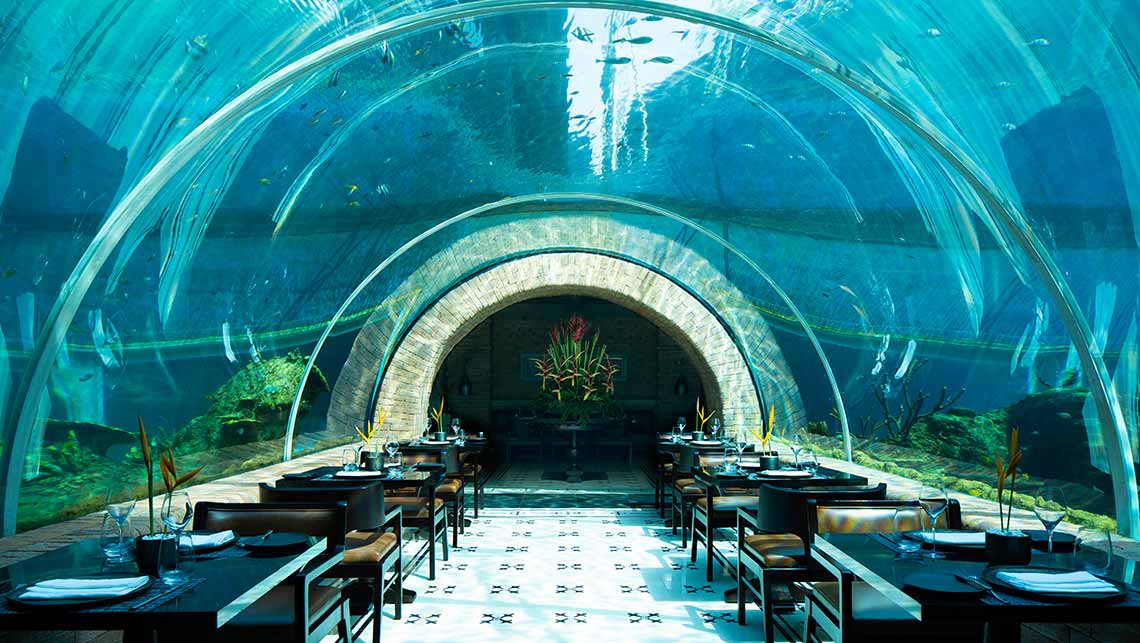 If you happen to bring your little family to eat at Koral Restaurant, you don't need to worry about the menu for your kids because Koral Restaurant also has a dedicated children's menu that displays popular movie characters. For drinks, there is a selection of fresh juices and interesting mocktails made from healthy and exotic Indonesian ingredients such as Balinese wild berries, jasmine tea, and pure lavender.
Koral Restaurant is open for dinner from 6:30 p.m. to 11 p.m. every day. We recommend that you make a reservation in advance.