Jimbaran Bay Seafood
11/08/2022 22:17
---
When on vacation in Bali, many tourists will look for exciting places to visit. Moreover, the island of Bali is indeed famous for its natural beauty and unique culture. Many tourists, ranging from local tourists to foreign tourists who come to visit Bali to make unforgettable beautiful memories.
The island of Bali has many popular tourist attractions that must be visited. Where the tourist attraction shows all the beauty and uniqueness that exists in Bali. Starting from natural attractions, cultural attractions, to various other fun places. One of the attractions that tourists must visit is culinary attractions such as Jimbaran Bay Seafood. A restaurant that serves a wide selection of seafood menus.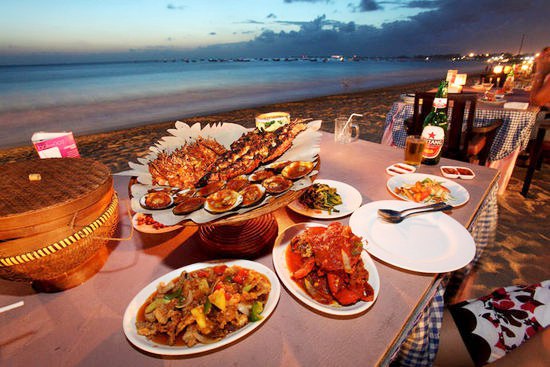 The Interesting Things From Jimbaran Bay Seafood
Jimbaran Bay Seafood is a restaurant group consisting of a restaurant group. Around more than 30 restaurants can be found here. Jimbaran Bay Seafood Club is located along the coast of Jimbaran Bay or often known as Kedongan Beach. This is the only restaurant right on the sand of its own private beach. Carrying an outdoor theme, Jimbaran Bay Seafood still looks elegant by presenting the appearance and arrangement of dining places like indoor but with a more natural atmosphere blending with nature.
The view that is served at Jimbaran Bay Seafood Club is also very pleasing to the eye. Especially when dusk begins to arrive, the view of the sunset will welcome the visitors who come. Visitors are free to walk on the beach while enjoying the sunset view at Jimbaran Bay Seafood. Visitors can also order grilled corn on the beach while waiting for the food to be ready. Don't forget that the afternoon here is the perfect time to capture the sunset on the coast.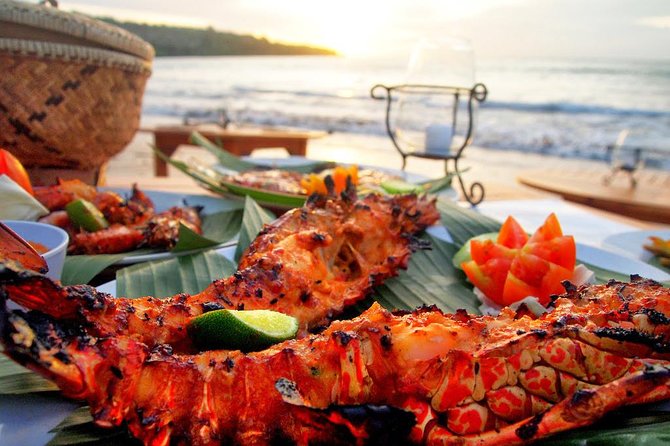 The Best Culinary In Jimbaran Bay Seafood
In addition to being an instagramable place, various types of seafood dishes are also available here. The types of seafood to choose from are Red Snapper, Garupa, White Snapper, Barracuda, King Fish, Baronang, Baramundi, Lobster, Sea Shrimp, King River Prawn, Squid, Standard Crab, and Super Crab. Not only that, there are also local Balinese foods to restaurants that serve foreign-flavored foods such as Italian, Japanese, French, Indian, Chinese, Thai, Mediterranean and many more.
The right time to visit Jimbaran Bay Seafood is in the afternoon, around 05.30-06:15. In addition to a charming sunset view, this place also provides a musical quartet entertainment that will accompany the dinner to make it even more memorable. In this place, traditional Balinese dances are also served which will further enliven the dinner atmosphere of visitors, especially couples or families. As it gets late, the atmosphere at Jimbaran Bay Seafood Club gets more lively.
Location
Kedonganan Beach Road, Jimbaran, Kuta.
Access
About 15-20 minutes drive from Kuta, Legian, Seminyak, visitors will pass Jl. Raya Kuta - Jl. Setia Budi - Jl. Jalan Senja - Jl. By Pass Ngurah Rai - Jl. Pasir Putih in Kedongan about 800 m, Jimbaran Bay Seafood is on the left side of the road.