I Am Museum 3D Art
05/02/2022 21:13
---
Who does not know the island of Bali? All of its stunning beauty and uniqueness leave an imprint on the minds of tourists, especially those who have been on vacation in Bali. All of its beauty and uniqueness have been recognized by the eyes of the world with one nickname, namely "Heaven on Earth" where tourists can indulge themselves on this island. Therefore, it is not surprising that the island of Bali is always enlivened by local tourists to foreign tourists during the holidays.
Many amazing things can be found easily. Like the many choices of popular tourist objects and must be visited. Starting from natural attractions, cultural attractions, culinary attractions and many other fun places. One of the unique tourist attractions that can provide good memories is the I AM 3D Museum.
I Am 3D Museum Attractiveness
The name of this museum is 3D Interactive Art Museum (I AM) or better known as Museum I Am Bali. The address and location of this 3D museum is very strategic in downtown Denpasar, if tourists schedule a tour in Bali and package a city tour, the I Am Bali Museum must be the next tourist destination. Maybe tourists have heard of or even enjoyed painting in one of the three-dimensional museums in Bali, because before I Am Bali, in April 2014 a 3D museum called DMZ Bali was established, located in the Legian area, close to tourism centers.
The presence of the 3D Interactive Art Museum or I Am Bali in Denpasar as a new player in completing this 3-dimensional painting event, of course, has to compete with its predecessors. And that's why the I Am Bali museum, even though it carries the same theme, will present it with a new concept, displaying something more special and different, so that visitors don't feel bored.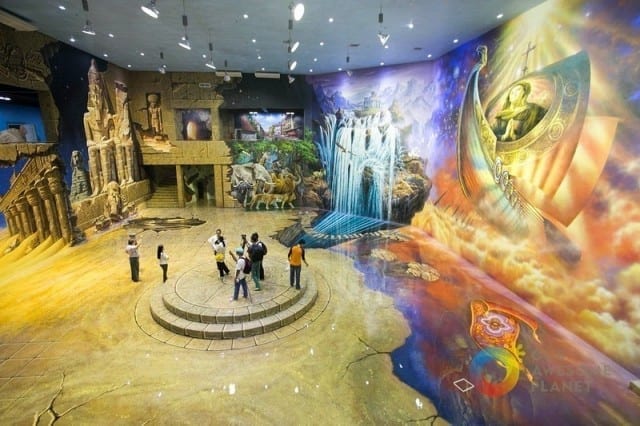 I Am 3D Museum Painting Collection
The I Am Bali 3D Museum is one of the largest 3D (three-dimensional) painting museums on the island of Bali, even while it is claimed to be the largest in Indonesia, this tourist attraction in Denpasar Bali was officially opened on September 12, 2016. This place is still classified as a new tourist spot, its strategic location in the center of Denpasar city makes it easier for visitors or tourists to access it. This 3D museum completes the list of tourist destinations in Denpasar that tourists can visit.
The 3D paintings displayed in this place are the work of the nation's children, including Balinese. So we should be proud of the work, let alone be able to enjoy the work of art. The I Am Bali 3D Museum, apart from being the largest, also offers a special room, namely the upside down room and also the sloping room. These are the advantages of this three-dimensional museum in Denpasar.
For the collection of 3D paintings displayed, there are around 102 paintings with various themes such as famous figures, animals, cartoons, fantasy, natural atmosphere including inserting local culture such as ogoh-ogoh.
The Entrance Ticket to I Am Bali 3D Museum in Denpasar
Local residents (Bali ID card): IDR 50,000/person
Domestic tourists (WNI): IDR 100,000/person
Foreign tourists (foreigners): IDR 120,000/person
Infants under 3 years: Free