FAMILY BEACH CLUB IN BALI
02/05/2020 12:58
---
Summer is coming it means holiday is getting closer. It's time for you to make plans for your next vacation! What about Bali? Would you like to go for a vacation in Bali? Bali is not a bad choice. There are so many places for you to vaccay such as Beach, Cultural & Religious places, The Zoo, Bali Bird Park and the others such thing. If you got tired, Hotels and Villas are not the only options for you to rest. There are so many unique restaurants, club, and also Beach Club!
Have you ever heard about Beach Club? Beach club is a place that can be visited any time, from the morning until the night. You can relax on the sunbeds, you can have a light lunch or you can have a nice dinner. The atmosphere is nice and the service is excellent. You had a light lunch there with lobster sushi and ceviche and really the food and the "presentation" of the dishes were fantastic. It is the perfect combination of location, delicious food, excellent service, nice music and relaxing atmosphere.
According to its name, Beach Club sounded like a place for adult, didn't it? But don't worry, Bali has several beach club that is family friendly. Some of them are Artotel Beach Club, Flamingo Beach Club, Panama Kitchen and Pool, also Finns Beach Club.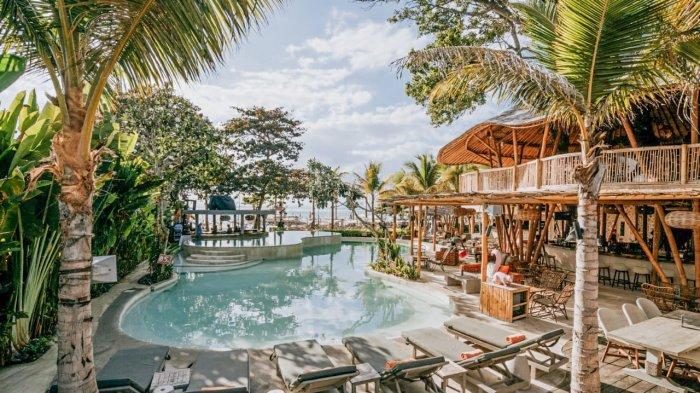 a. ARTOTEL BEACH CLUB
Address: Jalan Danau Tamblingan No. 35, Sanur, Bali
Contact Info: +62 361 449 1888
Artotel Beach Club is placed in Sanur at Jalan Danau Tamblingan, it has direct access to Sanur's golden sands and gentle waters. If you happen to have children that really love to play in the beach, you don't need to worry to let them free. The beach in this Beach Club is covered by reefs so it calms the wave and it's safe enough for your children. The beach club has lawns and a fun playground and there is a shallow part in the large lagoon pool.
Once you start feeling hungry, Artotel Beach Club offers you their food and beverage service with price that started by IDR 60.000. Artotel Beach Club also hosts regular family friendly events, including a somewhat sporadic Sunday market featuring local vendors, kids' activities, live music and more.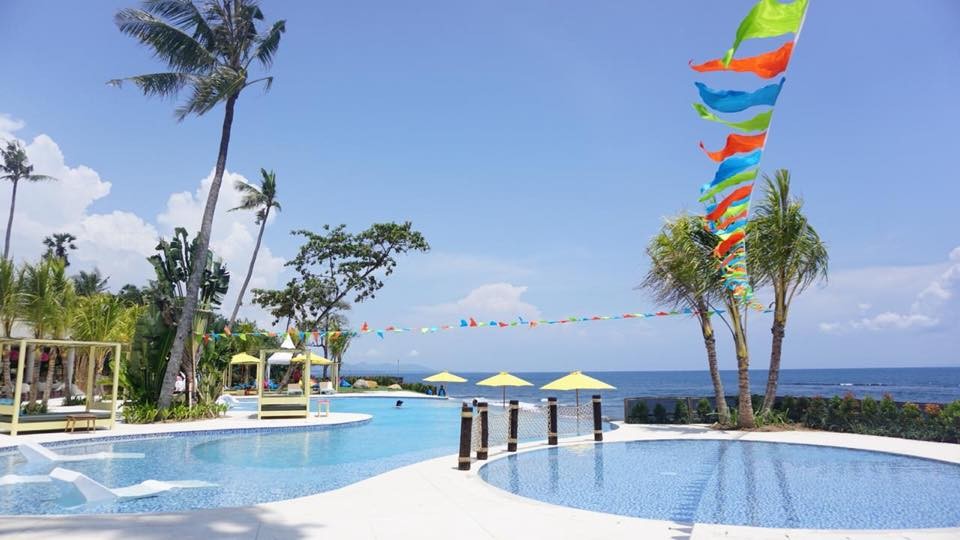 b. FLAMINGO BEACH CLUB
Address: Jl. Pantai Saba, Saba, Kec. Blahbatuh, Kabupaten Gianyar, Bali 80581
Contact Info: (0361) 4795777
Do you love Flamingos? If you do, this beach club really fits your criteria! With Nusa Penida Beach as its background, Flamingo Beach Club that is developed by Bali Zoo offers you their African Flamingos. The Design and Decoration in this beach club is dominated by Pink and Tosca with learning and playing concepts through the exotic animals such as Flamingos.
Just because they have Flamingo as their name, doesn't mean Flamingo Beach Club only shows you their Flamingos. Far before the Flamingos been there, Flamingos Beach Club spoils the visitors with their butterflies and other bugs collections. They're currently still there along with the Flamingos.
Flamingo Beach Club is open everyday started by 11.00AM to 08.00PM with IDR 100,000 to purchase its ticket entrance for one person. That price includes Swimming Pools facility, Playground, also foods and beverages.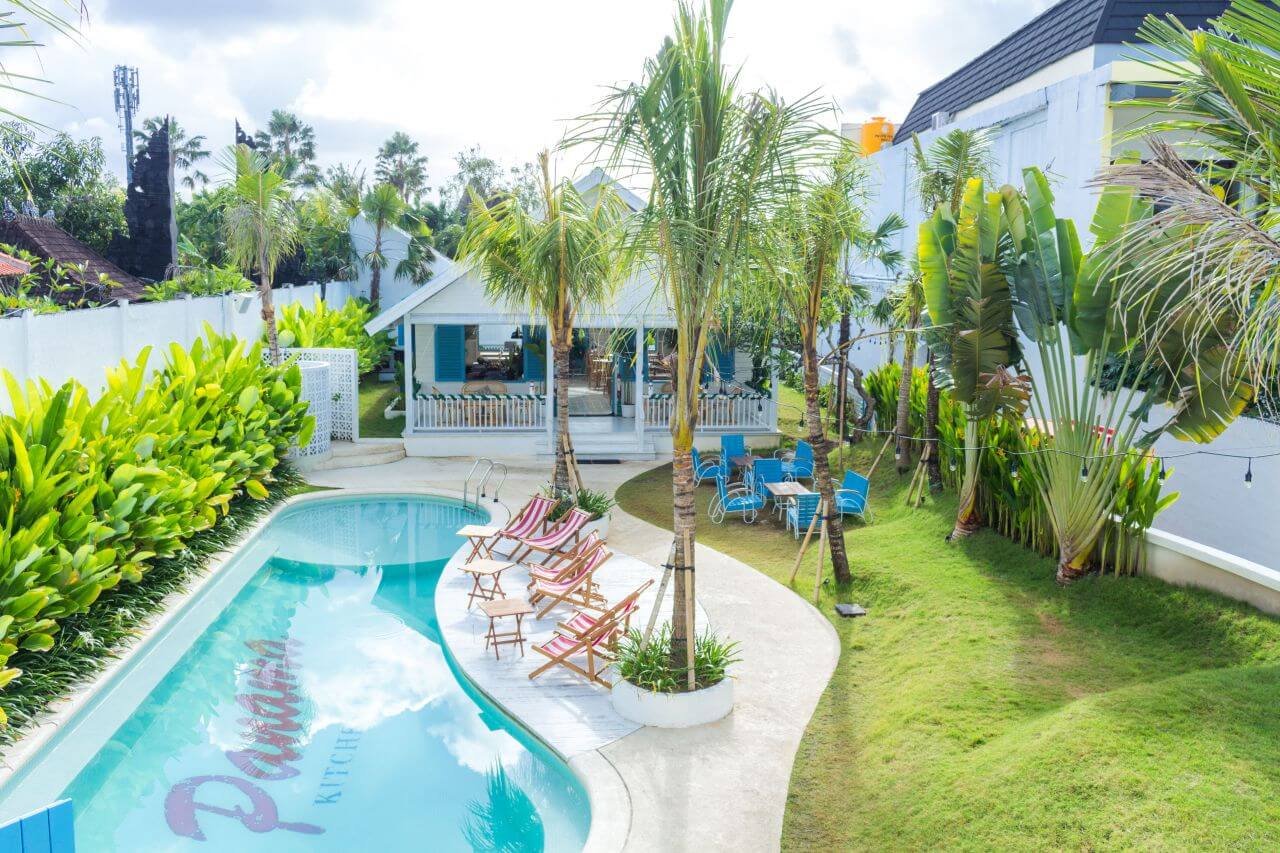 c. PANAMA KITCHEN AND POOL
Address: Jalan Pantai Berawa No. 13, Canggu, Bali
Contact Info: +36 1 906 4715
If you happen to look for a place that not really crowded, Panama Kitchen and Pool is a great choice. This Beach Club is located in Canggu at Jalan Raya Pantai Berawa no. 13. The Concept that Panama Kitchen and Pool offers to you is White and Blue architecture, it cloud be your selfie background so it's really a best choice for you who's active in Instagram.
Panama Kitchen and Pool is open at 07.00AM to 10.00PM on weekdays, but it's closed an hour later on weekend. An important information that you have to keep in your mind is you have to put IDR 150,000 for your minimum order to get in this Beach Club. The amount of price of Food and Beverages here are started by IDR 20,000 to IDR 90,000. It includes swimming at the swimming pool in the center of the Beach Club.
If you bring your kids, Panama Kitchen and Pool has a relaxed setting where kids can jump in the pool while waiting for their gourmet poolside grub. Panama Kitchen and Pool also offers classic kids' dishes like grilled cheese and fish and chips, with prices starting at around IDR 46,000.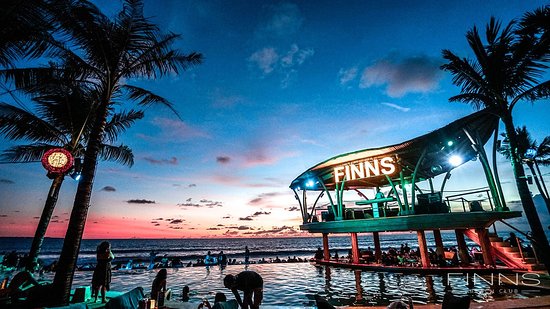 d. FINNS BEACH CLUB
Address: Jl. Pantai Berawa, Canggu, Kec. Kuta Utara, Kabupaten Badung, Bali 80361
Contact Info: (0361) 8446327
Finns Beach Club is located in Canggu as well as Panama Kitchen and Pool, Bali. If you happen to go there from Denpasar, it will take your time about 30 minutes for 15 km way to go. Finns Beach Club makes your vacation easier by giving you a valet parking service, so you don't need to worry about parking your vehicle and just be there enjoying the beach. Finns Beach Club also has swimming pool facility together with the towel and the locker.
Finns Beach Club is devided by two, The ordinary beach club and Finns VIP Beach Club. They are located next to each other, but Finns VIP is placed in the rooftop area with more beautiful view that will spoil your sight completely!
Canggu has so many Beach Club, but according to the visitors, Finns Beach Club has its own characteristic. There are so many influencers come back there since they really satisfied to be there. You can enjoy the view of the sunset there while swimming. Finns has two pools; medium size and large size.
The Foods and Beverage menu that is offered by Finns Beach Club is so diverse. The visitors are able to order coffee or tea started by IDR 40,000, and then juices that started by IDR 65,000 also smoothies (IDR 65,000), Mocktails (IDR 65,000), Cocktails (IDR 120,000), Beer, Wine, and many others. Meanwhile for the foods, visitors could order Salad (IDR 115.000 – IDR 215.000), Pizzetta (IDR 65.000 – IDR 85.000), and Grazing (IDR 65.000 – IDR 75.000). There are still so many other menu that is served for the visitors.
The minimum order in Finns Beach Club is diverse, depends on the seat you are sitting. If you want to avoid that confusing situation, you could be there after 07.00PM. You have your freedom to choose your seat after 07.00PM.
There are strict rules visitors have to follow. The most rule is visitors are not allowed to bring foods and beverage from the outside of the company. If you happen to bring your camera, you are not allowed to use tale lenses or the other similar lenses.