Edogin Restaurant Mulia Bali
30/06/2020 18:18
---
LUXURY JAPANESE CUISINE IN EDOGIN RESTAURANT AT THE MULIA BALI
Edogin Restaurant is known as a luxury Japanese restaurant that offers direct beachside views. The dishes that can be made at this teppanyaki restaurant are also made with special ingredients, including Wagyu meat which has a distinctive taste.
Staying true to the roots of Japanese culinary philosophy, Edogin offers the best ingredients to your table. Each element is sourced locally and from all over the world to be presented in recommended options. Dining at Edogin is an intimate adventure that takes you to the exploration and taste of the Sakura Land.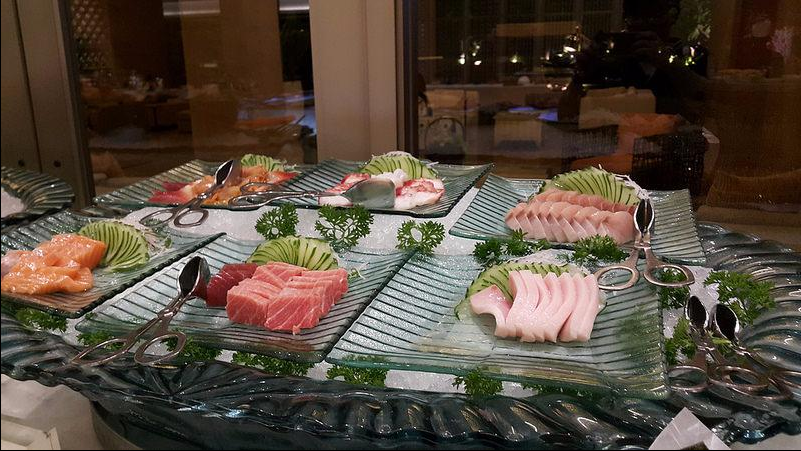 Famous for its Teppanyaki, but as the perfect choice for your culinary on your vacation, Edogin doesn't only offer Teppanyaki, but also Tempura, Sushi, and Sashimi. They are available every Thursday, Friday, and Saturday for your dinner. You can also enjoy the main choices from the Japanese Ala Carte menu with a selection of special Sake, Japanese Green tea, and International wine which will surely satisfy your thirst. There is also classic selection prepared by Edogin Restaurant, such as shabu-shabu and robatayaki. Edogin Restaurant offers the perfect choice for a satisfying meal at any time.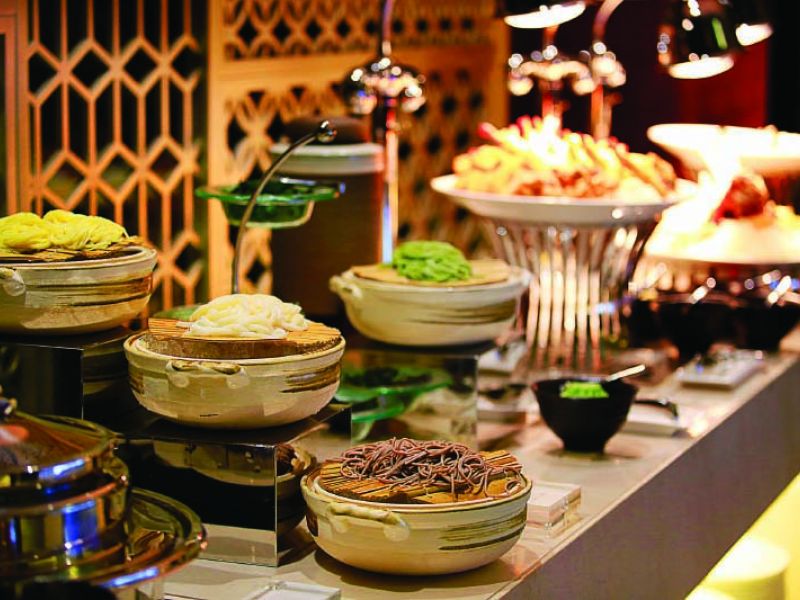 SPECIAL OFFER
A. Teppanyaki buffet
Teppanyaki Buffet is open every Thursday to Sunday from 6.00 PM to 11.00 PM. For a more satisfying and enjoyable experience, while choosing sashimi, tempura, seafood, and fresh premium meat, you are invited to order a seat at the teppanyaki bar. Talented chefs from Edogin Restaurant will delight you with a live cooking performance. Have you seen the chef cook in Live?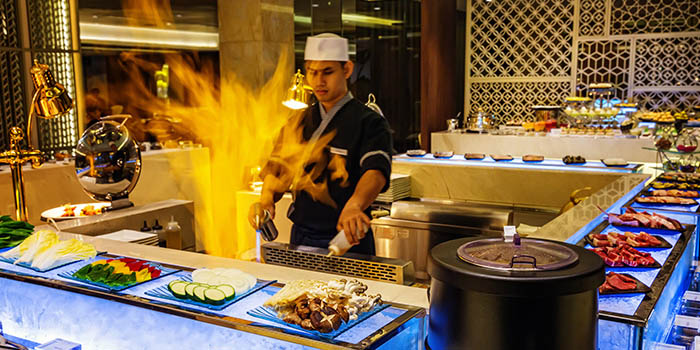 Inside the Teppanyaki The buffet there is an exciting selection of sashimi, tempura, fresh seafood and premium meat.
b. Dine 4 Pay 2
This promo is held every Saturday and Sunday from 06.00 PM to 11.00 PM. This offer is only valid for Teppanyaki Buffet. If you order Ala Carte, the Dine 4 Pay 2 promo cannot be claimed.
c. Dine 3 Pay 2
There is another cheaper and more attractive one, which is Dine 3 Pay 2. This promo is only held every Sunday from 11.00 PM to 03:00 PM. Same as Dine 4 Pay 2, this offer only applies to Teppanyaki Buffet bookings.
d. Weekday Feast (Dine 8 Pay 4)
The Weekday Feast is a promotion during weekdays (Monday to Friday) with a Dine 8 Pay 4 offer. It is suitable for those of you who want to hang out with your co-workers, or your little family. This promotion is held from 11.00 AM to 03.00 PM.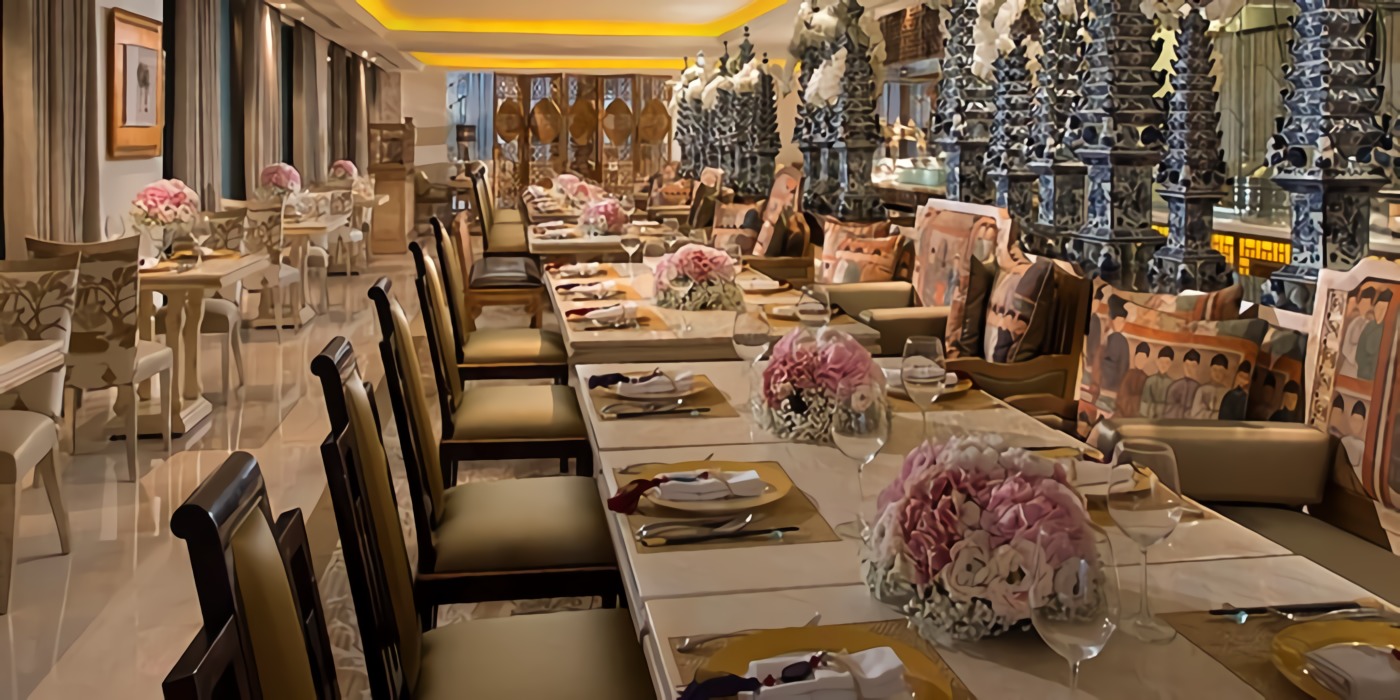 LOCATION AND ACCESSIBILITY
Edogin Restaurant is located at The Mulia Resort, South Nusa Dua, Sawangan Area, Nusa Dua, Benoa, South Kuta, Badung, Bali. Located on the Promenade Resort level overlooking the tranquil Lake Mulia, Edogin is open daily for lunch and dinner. This restaurant has a capacity of 105 people with a Teppanyaki table and a private dining room that can accommodate 10 people for more privacy.
In addition, Edogin Restaurant is also located in a strategic location because it is close to other tourist attractions such as Mengiat Beach, Pasifika Museum, Garuda Wisnu Kencana, Bali Pirates Bay, etc.
From Edogin Restaurant to Mengiat Beach, only 3.7 km or 10 minutes, and 4.5 km from Edogin Restaurant to Pasifika Museum. If you have the desire to go to Garuda Wisnu Kencana Cultural Park, it is 14 km or 30 minutes from Edogin Restaurant. If you want to go to Pirates Bay Bali, it's 5 km or 15 minutes from Edogin Restaurant.