Dulang Restaurant Bali
07/11/2020 23:04
---
Luxurious and delicious restaurants can be found in various choices while you are in Bali. If you don't just want to taste good food, but also have a unique dining experience, Dulang Restaurant Bali can be an interesting consideration. The restaurant is located at the Hotel St. Regis Nusa Dua gives the experience of enjoying a meal like a noble.
The royal dining experience at Dulang Restaurant is taken from the Dutch tradition known as rijstaffel. Literally, rijstaffel means rice table. In practice, rijstaffel is done by providing a complete variety of dishes at one table. Well, at Dulang Restaurant, rijstaffel is done by adopting Balinese culinary culture.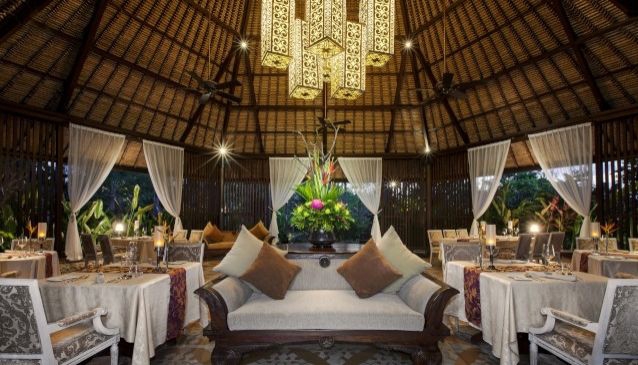 Comfortable Tropical Atmosphere at Dulang Nusa Dua Restaurant
When you are in a restaurant building, you will immediately feel the comfortable atmosphere. Carrying the rijstaffel menu theme, it's no wonder that the building's interior design is also harmonized. Therefore, you will find that the room arrangement at Dulang Restaurant Bali is deliberately done with a colonial theme.
The classic colonial-style room in this restaurant also looks beautiful in the presence of a tropical garden that shades the eye. In this garden, you will find various types of plants that make the atmosphere even more beautiful. This comfort is increasingly felt along with the traditional dance performances with rindik music backgrounds.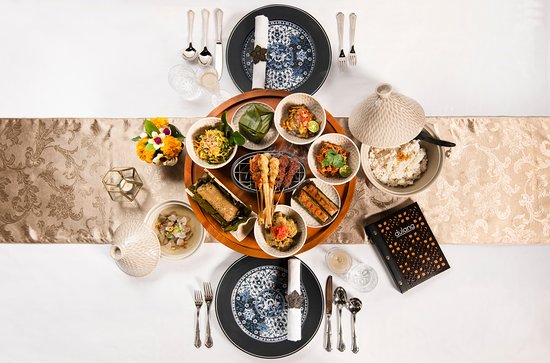 Balinese style Rijstaffel Menu at Dulang Restaurant Nusa Dua
Like rijstaffel in its original country, while you are at Dulang Restaurant Nusa Dua, you will be invited to really enjoy the dining experience. As an opening, you will be greeted with a traditional Balinese welcoming ceremony which is then continued with the handwashing ritual that is usually done by local people.
Furthermore, you will get a loloh as a welcome drink. On this occasion, the restaurant will also provide various types of chili sauce which are brought in trolleys along with various light snacks. As the main menu, you will find a menu known as the royal plate accompanied by a special drink civet coffee.
Then, what menus will you get in serving a traditional Balinese-style royal plate or rijstaffel at Dulang Restaurant? The menu is quite a lot, including:
Authentic beef soup from Karangasem, warm white rice, Sambal in various types, such as sambal matah, fried sambal embe, and tomato sauce, prawn crackers, rice crackers and belinjo crackers, Banana heart, Mushroom Tum taluh, Suna Cekuh Octopus, Timbungan duck, satay in various choices, namely lilit chicken satay, plecing beef satay, and prawn satay, Sampi mengat-nyat which is a culinary dish made from beef with big basic spices, Opokan languan, limping limping, rolled omelet, black sticky rice porridge, coffee mongoose
With so many dishes, it's no wonder this menu is called a royal plate or dish for nobles, right? In addition, you also need to pay extra if you want to enjoy this meal. Dulang Restaurant sets a price of IDR 880 thousand per person for ordering this menu. For children aged 3-12 years, the official price is Rp. 325 thousand. Meanwhile, children under 3 years of age are free of charge.