Dream Island Mertasari, Sanur
26/03/2021 23:41
---
One of the well-managed and neat spots in the Mertasari Beach area is Dream Island Mertasari. Entering the area, you will find many cool places. And of course it is very suitable for taking pictures even prewed.
Mertasari Beach is one of the beaches in Bali that offers a million natural beauty. This beach has its own characteristics, that we can enjoy the sunrise and sunset which is an interesting thing. And one of the cool spots that visitors are interested in is Dream Island.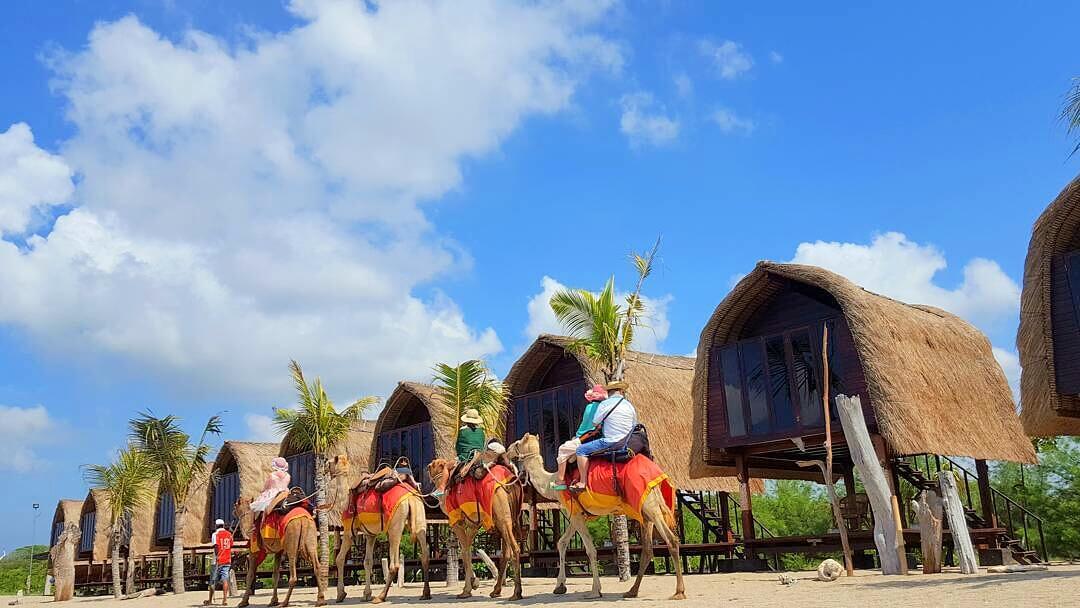 The attraction of Mertasari Dream Island
After entering the entrance, you have to go through a wooden bridge. After that, there are many cool photo spots ready to be immortalized in your gallery. There is a view of a bridge, dry trees, trees, camel rides, and the most visited spot on a swing over the sea on the beach similar to the one that used to be on Gili Trawangan.
At the swing area, visitors are even willing to queue to be able to capture memories. The best time to take pictures on the swing is when the beach has not receded, so that your photo will be seen playing a swing in the middle of the sea.
To enjoy a horse or camel ride, you will be charged an additional fee and a pocket-friendly price. Bike tracks are also provided and you can enjoy the romance of cycling or taking a walk with your partner.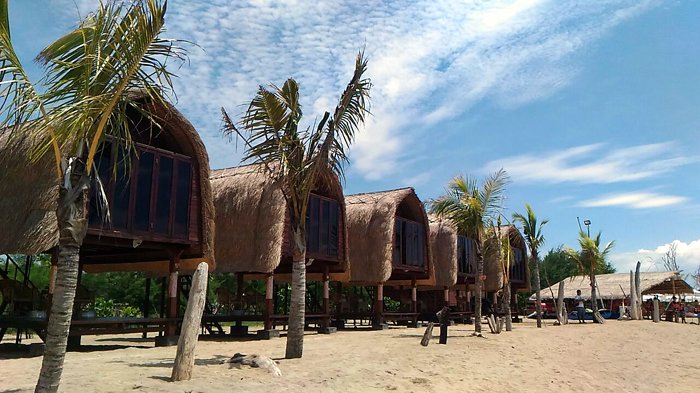 Dream Island Mertasari Facility
Apart from taking pictures, you can also relax while swimming, sunbathing or going around by bicycle. Apart from the above activities, there are also recreational activities such as camel riding, horse riding, and spa activities.
There is also a unique Dream Island inn. Each unit consists of one bedroom with a bale below. This bungalow unit is in the form of a house on stilts with environmentally friendly materials. With lots of glass on the walls and thatched roof. Even if you don't stay overnight, you are still allowed to take pictures.
The restaurants and cafeterias on Dream Island provide a variety of local and western menus. The price offered is quite friendly, starting from IDR 25,000 to IDR 70,000.
Entrance Fee For Dream Island Mertasari
To enter the Mertasari Beach area, you only need to pay a parking ticket, which is IDR 2,000 for two-wheeled vehicles and IDR 5,000 for four-wheeled vehicles. Meanwhile, entering the Dream Island area, you must pay IDR 20,000 per person and you will get a voucher that can be exchanged for a welcome drink and a snack.
Location of Mertasari Dream Island
Dream Island is located on Tirta Empul, Sanur, Bali, close to a mangrove forest area. To reach the location, you can go through Poso Lake Sanur then turn south towards Pengembak Street and straight through to the beach.
In addition, you can also go through Poso Lake street, turn south towards Sekar Waru Street, then turn right then meet a T-junction with a large banyan tree in the middle then turn left and arrive at Mertasari Beach.
Vacation to Dream Island is better with your partner or friends. For those of you who have a pre-prepared photo plan, you can do all the equipment and the photographer at the service desk or make a reservation on the Dream Island website.