Cosmic Diner Bali
17/10/2020 14:40
---
Being in Bali is fun. Several interesting natural and cultural attractions are offered in Bali. If you are in the Kuta area, the Cosmic Diner Bali Café is a great choice to relax. This cafe offers a unique instagramable place to eat. Several corners of this place can be used as spots to capture your moments into a photo. These spots have ornaments that are pretty good to be immortalized.
The "all American restaurant" atmosphere is strong here. Starting from the shape of the building, ornament to wall decorations. As if we are in America even though we are on Sunset Road Bali. It's fun, right, can you pose like you're abroad but you don't need to spend a lot of money?
The Beauty of Cosmic Bali
The decoration which consists of authentic memorabilia is quite evident with a few decorations at the Cosmic Diner Bali Café. For example, such as small ornaments such as old car replicas typical of New York in the 60s era. The combination of interior design and decoration looks unique and attractive which is very pleasing to the eye.
The predominance of red and green on certain walls does not hurt the eyes. It can even be said to be unique because on the wall there are several decorations such as the typical 60's New York sticker. Or some hanging lamps look to beautify the room. The black and white floor with a rhombus image also looks funny.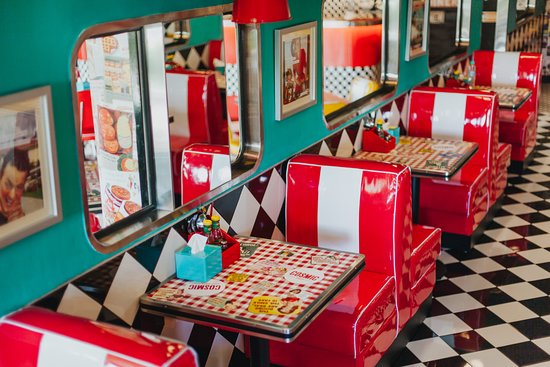 There are two table options, some only for about four people and some stretching for many people. The color of the chair still dominates the red color. And it seems that Cosmic Diner Bali is very brave to combine contrasting colors but still sweet to look at. You could say this cafe is a very cute retro-themed cafe.
According to some customers in their reviews on google maps, on average they feel the atmosphere is very comfortable and the service is satisfying. The location is quite strategic, the parking lot is quite large, and the staff is very friendly. They are responsive when they receive orders. The quality of the food is quite cool, but the price is classified as middle to high.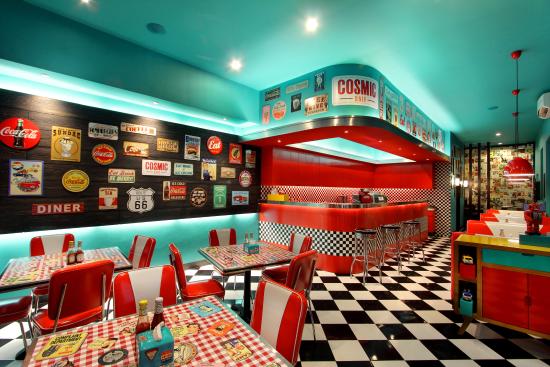 Cosmic Diner Bali Cafe Location
The favorite food at Cosmic Diner Bali is the burger menu. Cosmic coffee is also excellent because it is made by yourself with a blend of coffee flavors from Gunung Biru in East Java, Gayo Aceh and Madhelliing in North Sumatra. Milkshakes are also worth a try like Rocky Road and Bourbon. And don't forget to try Cosmic cocktails too!
Cosmic Diner Bali cafe is located in the shopping area of ??Sunset Star Blok C, Sunset Road Street, Legian, Kuta. This area is quite close to Ngurah Rai Airport. From the airport to the café it only takes about 15 minutes or about 8.3 km.
If you've finished your dishes and wonder to go somewhere else to explore more about Bali, there are several tourist attraction nearby such as Seminyak Beach, Kuta Beach, and also some Pool & Bar, and Clubs with outstanding DJs.