Canggu Italian Vintage Restaurant
30/12/2020 21:31
---
Going to Bali to hunt for food there, is certainly an interesting idea. But you have to choose what menu you want more because Bali has so many choices of restaurants with different main menus. If you want to taste Italian cuisine in Bali, then there is one place to eat that you can visit in Canggu, Bali, namely the Bottega Italiana Canggu Restaurant.
Bottega Italiana Canggu is actually a branch of Zibiru, an Italian restaurant in Bali too. This cafe has a philosophy to always serve fresh food with classic Italian recipes and techniques that have been passed down from generation to generation. And it has a goal so that customers can be satisfied and relaxed with the nutritious food they serve.
Vintage Interior Design at Bottega Italiana Canggu Restaurant
When you see Bottega Italiana Canggu for the first time, maybe what comes to your mind is unique and mini. The shape of the building is mini and cute with insufficient parking space. We prefer to come on a motorcycle instead of a car.
The first time you see it, you will be presented with an outdoor area with a combination of vintage and minimalist interior designs. You will feel vintage interior design with the choice of white which dominates with several colors such as blue and green. This vintage can also be carved from a table that is used where the paint is left peeling without the need to repaint so that the vintage impression can be felt.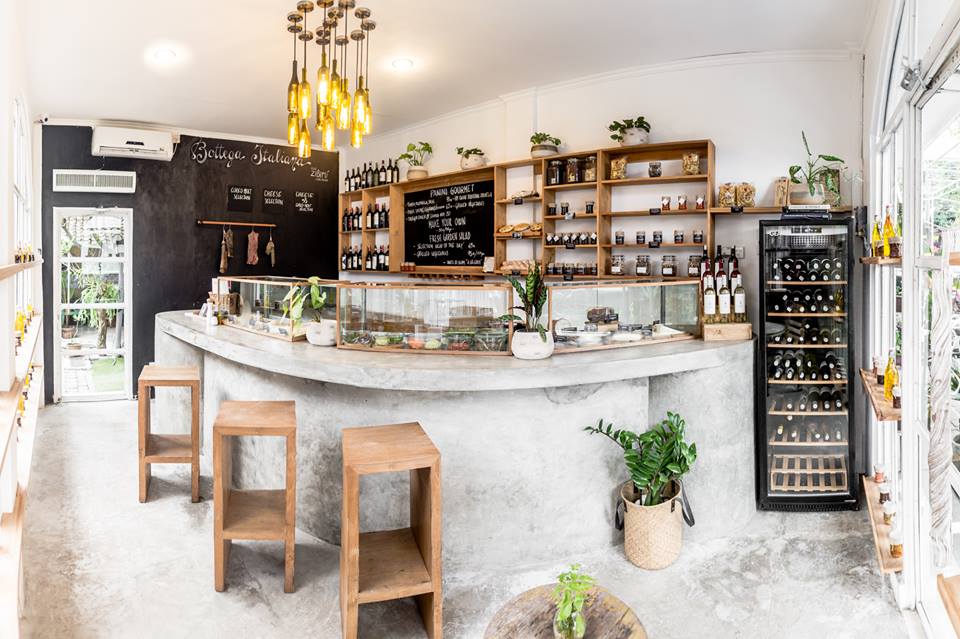 In addition, there is also a unique table that is made permanent and in the middle, there are hydroponic plants. On the left, there is a Bottega Italiana Canggu signboard and in front of the outdoor, there are several pots planted with plants. Above it is a decoration in the form of a hanging plant.
You can feel a minimalist impression when you are indoors. You will immediately see the bar and kitchen table after passing through the glass door connected to the outdoor. The table is on the left and on the table is a window display containing the bread that Bottega Italiana Canggu sells.
To the right, there are four tables with permanent chairs and wooden chairs. The walls are not as decorated as a minimalist interior design concept, only a few knick-knacks and small pots filled with plants on display. There is also an article in the form of what menus are served at Bottega Italiana Canggu.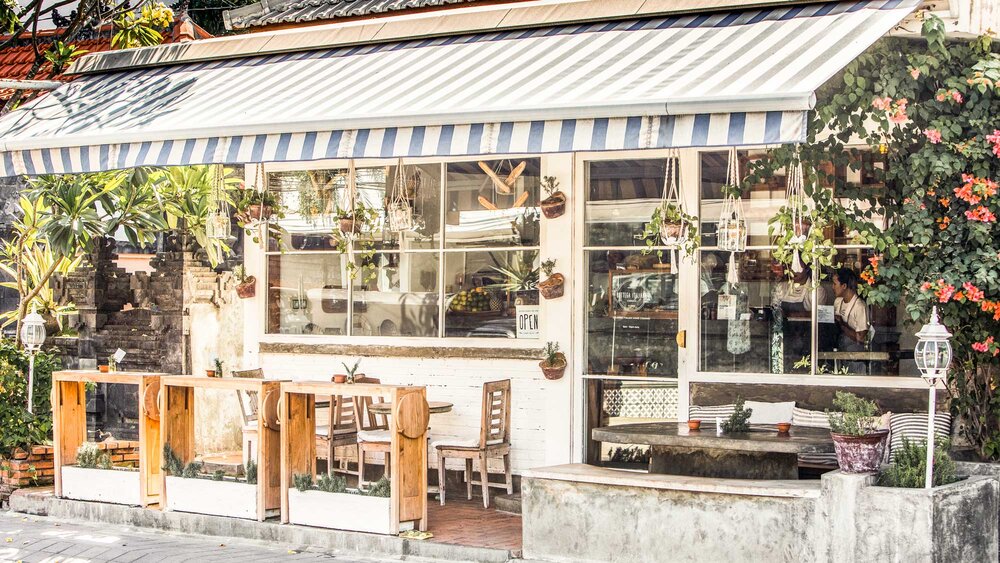 Location of Bottega Italiana Canggu
Bottega Italiana Canggu is located at Batu Bolong Beach No.77, Canggu, North Kuta, Badung regency, Bali. Open from 8 am to 10 pm every day. Provides a menu of Italian food such as pasta etc. There are also meals for vegetarians.
You want to visit Bottega Italiana Canggu? The method is quite easy, especially if you have just come to Bali. From Ngurah Rai Airport to Bottega Italiana Canggu, it takes about 20 km or about 54 minutes to get there.
Besides, you can go to Canggu Beach! From Canggu Beach, you can walk for 15 minutes, or using your vehicle only takes 3 minutes or about 750 m of the distance to get there.