Bridges Restaurant Ubud
17/01/2021 23:44
---
Bali is not only concerned with natural beauty in the form of beaches, but more than that, there are still other natural beauties that can be explored. For example the beauty of a river. Well, if you intend to find a place to eat with a river in the background, then come to Bridges Bali Restaurant Ubud.
Located in Ubud Village, one of Bali's most exotic villages, Bridges Bali Restaurant offers many amazing things. Its location overlooks a dense forest making the air cool and the atmosphere very beautiful. Moreover, the view from the Wos River becomes a "natural sweetener" of the beauty of Bali.
You can enjoy delicious menu dishes from Bridges Bali Restaurant while accompanied by a combination of the warm atmosphere from the room with the natural atmosphere around it. Even in an indoor concept room, you can still see the beauty of the Wos River and the dense forest from behind a large glass.
Beautiful Ambiance at Bridges Bali Restaurant Ubud
Bridges Bali Restaurant Ubud has an ideal spot to relax yourself. The place is also very cozy and beautiful. The selection of minimalist decorations is highlighted here. The place is arranged in such a way and looks modern.
A casual dining room, wine bar, shop and exhibition hall as well as event space is the perfect blend of this place. As the name "bridges", there is also a bridge. This bridge is the home of divine. Taking photos on the bridge against the backdrop of the Bridges Bali Restaurant is something to be mesmerizing.
The ideal place for dining and memorable dining. Accompanied by a glass of wine enjoyed with friends or enjoying a romance at dinner with candles and the backdrop of a dense forest, river and bridge.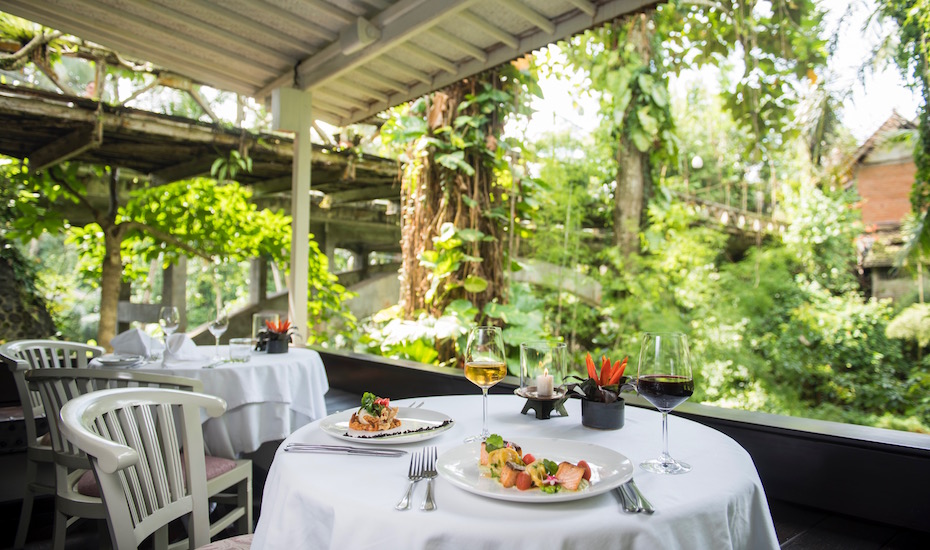 Menu Options at Bridges Bali Restaurant Ubud
Not only are the eateries great to review but the retail wine shop is also worth reviewing. There it has 350 wine labels which is a one of a kind shop with many wines. What's more, the shop accepts wine shipments.
The menus served there are western and eastern menus. You can try the tasting menu - also for the vegetarian menu. Also, the food at Bridges Bali Restaurant is gluten free.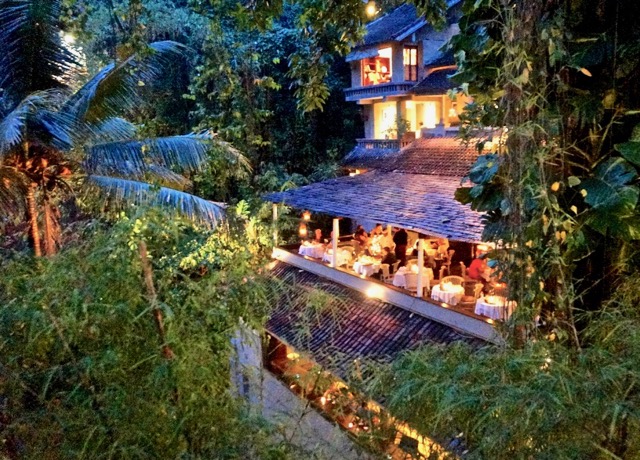 Location and Accessibility
If you want to visit Bridges Bali Restaurant Ubud, that place is on Jl. Ray Campuhan, Ubud, Sayan Ubud, Gianyar Regency, Bali. From Ngurah Rai Airport to the restaurant, you need to travel a distance of 39 km or about 1 hour 33 minutes.
From Ngurah Rai Airport to Bridges Bali Restaurant, you have to go northwest. Slight left onto Jl. Access to Ngurah Rai Airport. Otherwise, keep left to continue onto Jl. Access to Ngurah Rai Airport.
Use 2 lanes left to turn left onto Jl By Pass Ngurah Rai. Use the second lane from the left to turn slightly left to stay on Jl. By Pass Ngurah Rai. Then turn right to stay on Jl. By Pass Ngurah Rai.
Keep going left and take the 2 right lanes to turn onto Jl. Wage Rudolf Supratman. Turn right onto Jl. Palguna and turn left onto Monkey Forest Street. Finally, turn left onto Jl. Raya Ubud, there you will see Bridges Bali Restaurant.