Beji Guwang Sukawati Hidden Canyon
14/06/2021 20:29
---
The tourist attraction is Beji Guwang Sukawati Hidden Canyon, which is an attractive tourist destination in Bali. The canyon is located hidden, so it is not surprising that foreign tourists call it a hidden canyon. This canyon is formed from the erosion of river water, in the form of a deep and narrow valley.
Tourists who have come to Beji Guwang Hidden Canyon always say that the journey here is very difficult and challenging. Highly not recommended if you come with children or parents. However, Hidden Canyon Beji Guwang has a spectacular view of the canyon that cannot be described in words. Before becoming a tourist attraction, the Beji Guwang canyon was often used by residents as a fishing spot. Around the river flow in the Beji Guwang canyon there is Beji Temple which has a shower which is used for drinking needs of local residents.
Its holy water is often used for religious ceremonial activities around it. No wonder why the location of the Beji Guwang Hidden Canyon is very sacred and should not be careless when entering it.
Hidden Canyon Beji Guwang Sukawati became an option for traveling and became increasingly popular after a photographer from Klungkung uploaded his shots on the internet. The photos showing the exotic nature and charming scenery make many people curious to come to this location.
After many tourists arrived, the village government began to manage Hidden Canyon Beji Guwang as an adequate tourist spot. Visitors who come are not charged an entrance fee, but are only asked for voluntary donations for the development and construction of tourist facilities.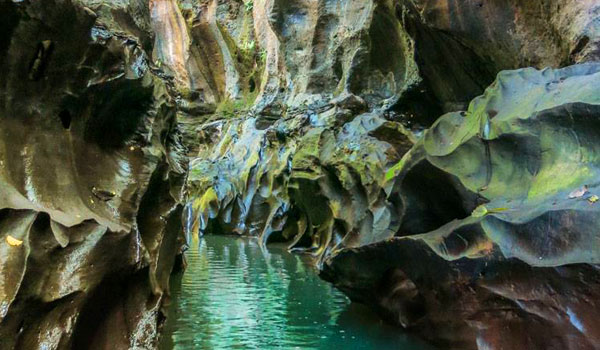 Tips When Visiting Hidden Canyon Beji Guwang Sukawati
1. It is better to come when the dry season arrives, to avoid heavy river flows.
2. The best time to come is in the morning around 09:00 in order to explore the three gorges at once.
3. This location is very sacred by local residents, so it is highly recommended to dress and behave politely.
4. No need to bring a lot of supplies because there are many stalls selling food.
5. It is better to use a local guide so you don't get lost, because they are more familiar with the terrain.
Location of Hidden Canyon Beji Guwang Sukawati
The location of the Hidden Canyon Beji Guwang tourist attraction is close to the Sukawati Art Market. Administratively, it is located in Guwang Village, Sukawati District, Gianyar Regency, Bali. The condition is still not too crowded by visitors because it has just been opened by local residents. In addition, the Beji Guwang Hidden Canyon area is an area that is sacred by local residents. The journey to this tourist location is also very heavy and steep, so it requires strong physical strength.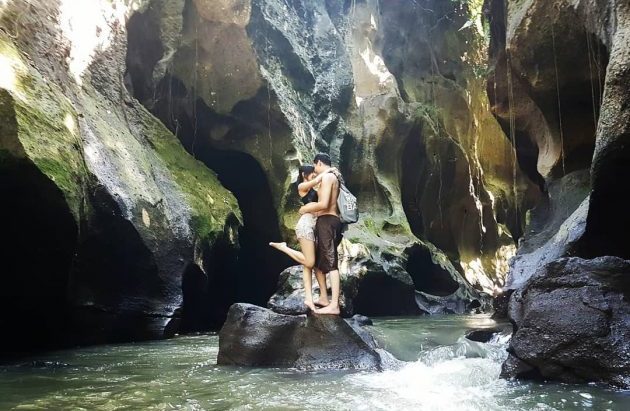 How to Get to Hidden Canyon Beji Guwang Sukawati
Visitors can reach the Beji Guwang Hidden Canyon location within 15 kilometers of travel if taken from Gianyar City or 14 kilometers from Denpasar City. The fastest route from Denpasar city is through the Ida Bagus Mantra bypass until you reach the Ketewel Village intersection.
Then take the path that leads to Jalan Raya Ketewel then take the direction to Jalan Raya Guwang. Arriving at the Garuda Statue, about 750 meters later there is Pura Dalem. The Pura Dalem parking area is quite spacious and serves as a vehicle parking area. After parking the vehicle, proceed by walking to Hidden Canyon Beji Guwang Sukawati.