Bebek Tepi Sawah Restaurant
31/08/2022 00:26
---
All the beauty in Bali that makes vacations so fun to remember, makes tourists never miss a moment on vacation to Bali. Many beautiful and unique things can be found while on vacation in Bali. All of which you can't necessarily get in other places or other countries.
There are many tourist attractions that can be visited in Bali. Starting from tourist attractions that reveal their natural beauty, cultural uniqueness and various other exciting hangout spots. At each of these tourist attractions, there are many exciting activities that can be done, one of which is enjoying delicious culinary delights at Bebek Tepi Sawah Restaurant.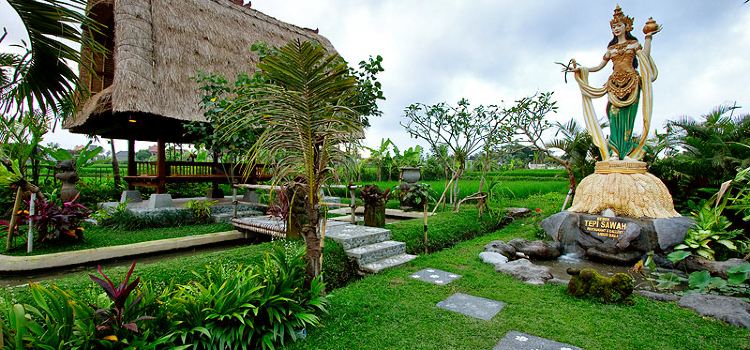 The Interesting Things From The Bebek Tepi Sawah Restaurant
Not only on the menu it has, but another attraction of the Bebek Tepi Sawah restaurant that can attract many guests to come to this restaurant. Of course these attractions are able to provide the best dining experience.
Another attraction that this restaurant has is a place to eat that resembles a gazebo, a place that uses bamboo and reeds. The size of the gazebo is also surrounded by rice fields. A restaurant that gives an attractive appearance like this will be very pleasant if visited during dinner. The Balinese feel of this place will be much more visible and felt. As in the rice fields, there is lighting using oil torches and Balinese music.
The Bebek Tepi Sawah restaurant is also located in a strategic area close to the Goa Gajah tourist attraction, especially the Monkey Forest, one of the famous tourist attractions in Ubud. So that tourists both before and after leaving the restaurant can go directly to one of the other attractions.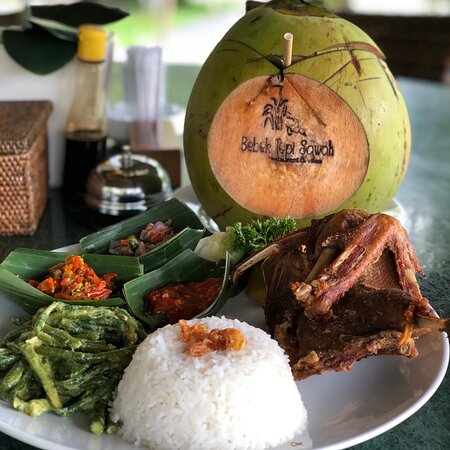 The Price of Dishes at Bebek Tepi Sawah Restaurant
Being the best restaurant in Ubud doesn't just rely on its attractions. The mainstay menu is also a must-have. The Bebek Tepi Sawah Restaurant offers a mainstay menu which is the most famous menu in the restaurant. The menu is crispy fried duck.
The crispy fried duck menu tastes better when eaten while it's still hot. Because the duck skin will still feel very crispy and the inside is still soft. This crispy fried duck menu comes with 3 typical restaurant-style sauces, namely:
• Sambal Matahu
This sambal is a typical Balinese chili sauce made from sliced ??raw shallots, cayenne pepper, salt and coconut oil.
• Fried Sambal Embe
This sambal is mostly made from fried onions.
• Grind Sambal
Sambal which is a mixture of large red chilies, tomatoes, shrimp paste and salt.
These three Balinese chili sauces are very suitable to be combined with the crispy fried duck menu. Crispy fried duck menu price IDR 105,000/portion plus 21% tax and service fee.
Location
Bebek Tepi Sawah Restaurant Ubud is located on Jalan Raya Goa Gajah, Banjar Teges, Peliatan Village, Ubud. The location of the restaurant is on the edge of the highway with a large enough parking area and very easy to find.
Opening hours
Restaurant opening hours are 10am to 10pm, Bali time.