African-like Atmosphere in Savana Tianyar
01/02/2023 04:06
---
Of the many tourist destinations, Bali Island is a very popular place among foreign tourists. Almost all tourists know and admire the beauty of nature and culture as well as all aspects of the beauty of Bali. Realizing the increasing number of tourist visits, many lodging facilities have been built to provide comfort to tourists while on vacation in Bali.
Not only the Kuta, Nusa Dua, or Uluwatu areas, Karangasem is also famous as a district in Bali that offers so many tourist attractions. In fact, you can find almost all types of tourist attractions here. If you like beautiful and natural scenery, you can try coming to Savana Tianyar Karangasem. Tianyar Savanna is a grassland that offers amazing views. In the Tianyar Savana, you will find a vast expanse of grassland. You may find meadows yellowish or green, depending on the season.
Calling the scenery of the Tianyar Savanna like the atmosphere in Africa is certainly not wrong. Especially if you choose to visit this place during the dry season. The view of the yellow expanse of grass blends with Mount Agung in the distance, making it look like a prairie landscape in Africa.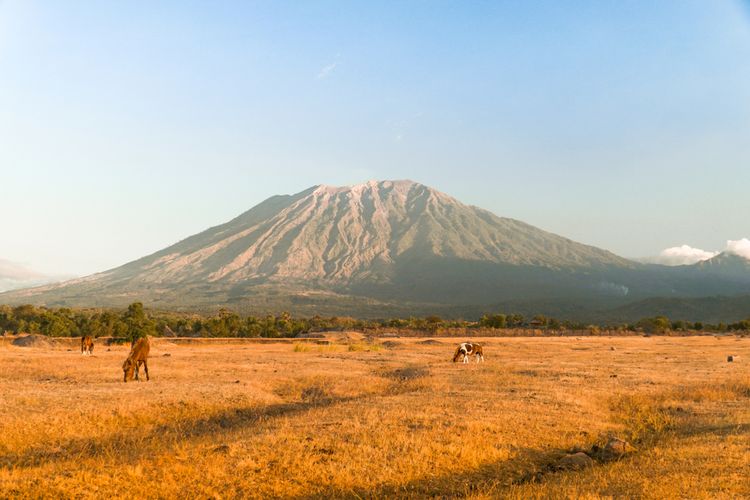 Best Photo Spot in Tianyar Grasslands Karangasem
The location of the meadow so close to Mount Agung does provide many blessings. This place is indeed a dangerous location affected by the eruption of Mount Agung. However, it also provides other gifts, in the form of beautiful scenery and fertile soil.
The beautiful scenery against the backdrop of Mount Agung makes the Tianyar Grassland popular with tourists. Those who come to this place often spend their time hunting for photos. You can get great photos here anytime, be it rainy or dry season.
In the dry season, the yellow expanse of meadows offers an atmosphere like in Africa. Meanwhile, the scenery in the rainy season when the grass starts to turn green is no less exotic. This view is often combined with the presence of several horses that can enhance the appearance of the photo.
Location and Accessibility
You can find the location of Tianyar Savana in the Tianyar Village area in Kubu District, Karangasem Regency. If from Denpasar City, the travel time needed is around 2.5 hours with a distance of 77 km. Meanwhile, the distance from the center of Amlapura City is approximately 40 km.
For convenience during the trip, the best option you can do is bring your own vehicle or rent one. The choice can be by motorbike or car. Interestingly, you can also use a motorcycle or car as a means to beautify your photos.
This tourist spot is also not far from other popular tourist destinations in Karangasem. Famous destinations that you can visit are not far from Amed Beach, Jemeluk Beach, and a row of other beautiful beaches in Karangasem.
So, besides being able to get beautiful Instagram photos at Savanah Tianyar, you can also explore other interesting places in Karangasem. You will not regret and have nothing to lose by choosing Karangasem as your holiday destination while in Bali.