ACTIVITIES WITH FAMILY WHO HAS CHILDREN UNDER 12 YEAR OLD
02/05/2020 13:41
---
Bali Island always be an interesting place to visit. It offers many beautiful views and culture that has been shaped and stayed for so long. Therefore, so many travelers and family visit Bali and of course they invite the love ones to join them. Are you one of them? Not only views and cultural places, Bali also offers you God great creatures to see. One of them is Bali Bird Park, a place where you and your love one could see so many beautiful birdies that has been living in Bali.
If you happen to bring your children to have a vacation in Bali, there are several places that worth a try.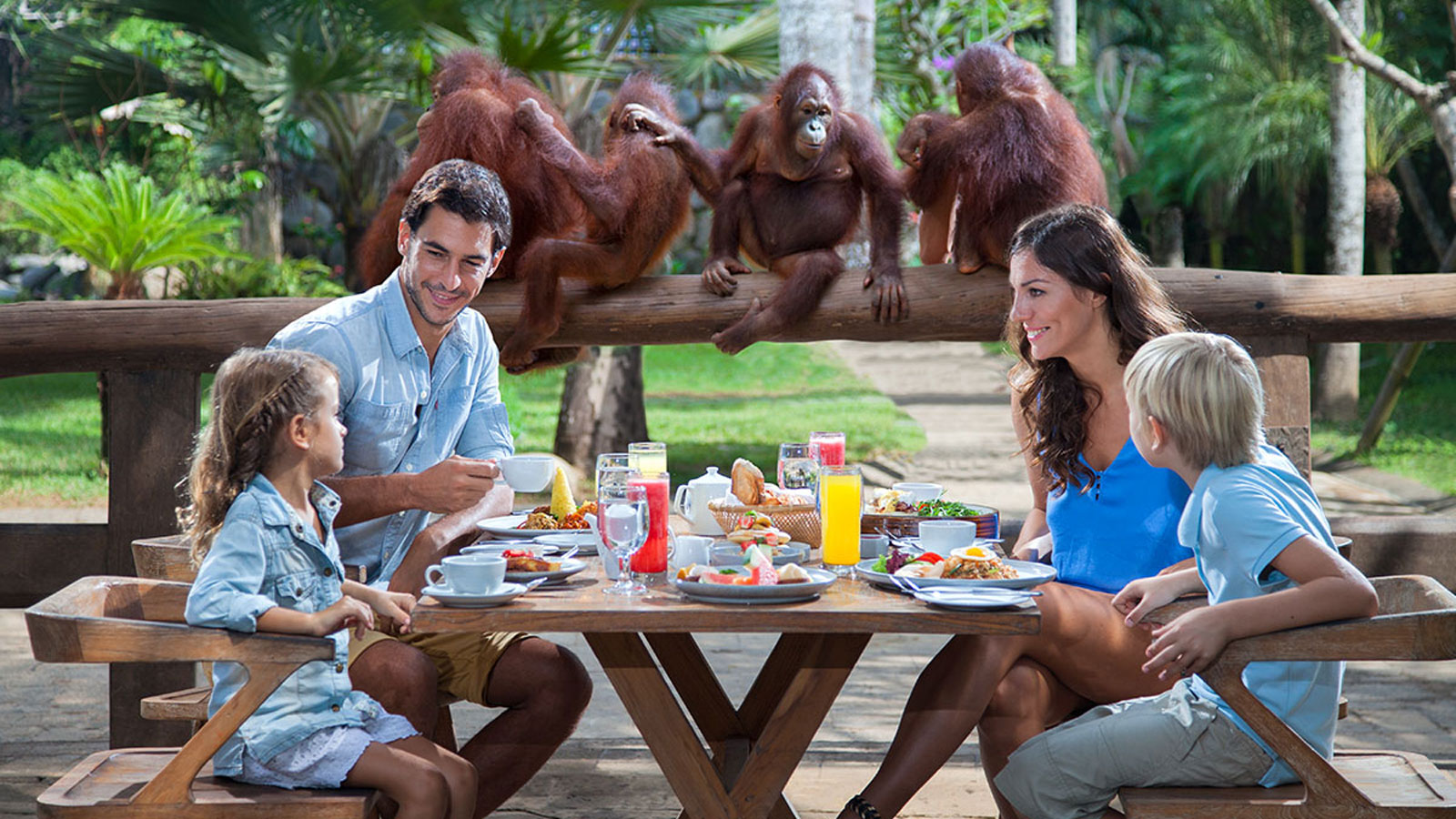 Bali Zoo Park
Not only beaches, Bali also has zoos. Bali Zoo Park is the second largest zoo after Bali Safari and Marine Park. This Zoo is located in Sukawati, Gianyar, and also be the most target of tourist visitation. Bali Zoo Park has several animal species. In the moment of school holiday, Some schools, especially Kindergarten and Elementary School bring their students to have a study tour here. This zoo is not a place for people to visit or study, but also for researching. One more reason that make this place more interesting is because the area where Bali Zoo Park located is nearby another region with so many places to visit and it's so strategic for you if you would have planned to go over Batubulan – Ubud – Kintamani.
In this recreation area the visitor is also capable to have their meal or feast for lunch nor dinner together with the animals, the beautiful park and the forest atmosphere theme, the tall tropic trees, bushes, and any other forest material. You will be treated and spoiled well just like you are in the wild large forest. Of course it makes it more special and personal to the tourist. The Zoo would be more crowded if you visit it in the New Year and Christmas holiday.
What to do in Bali Zoo Park?
Besides going around to enjoy the views and have fun with the animals, the visitors is also allowed to do some selfies or photography with some animals such as bird and snake. You can also try to feed the wild animals like Tigers and ride elephants, too. If you happen to get bored with everything you've done there, Bali Zoo Park still have more things for you to do. This place provided games play like Tree Walk Adventure such as Flying Fox. Flying Fox is a game that can awaken your adrenaline. If you love it, you can try it with an additional price.
Ticket Entrance Price
For Indonesian adults, Bali Zoo Park ticket entrance worth to IDR 110.000/person and for Indonesian Kids it's worth to IDR 85.000/person. Meanwhile for the foreign tourist the ticket entrance fines different. For adult it's worth to USD 28/person and for kids it's worth to USD 18/person. Both Indonesians and Foreign tourist kids under 2 year old is free.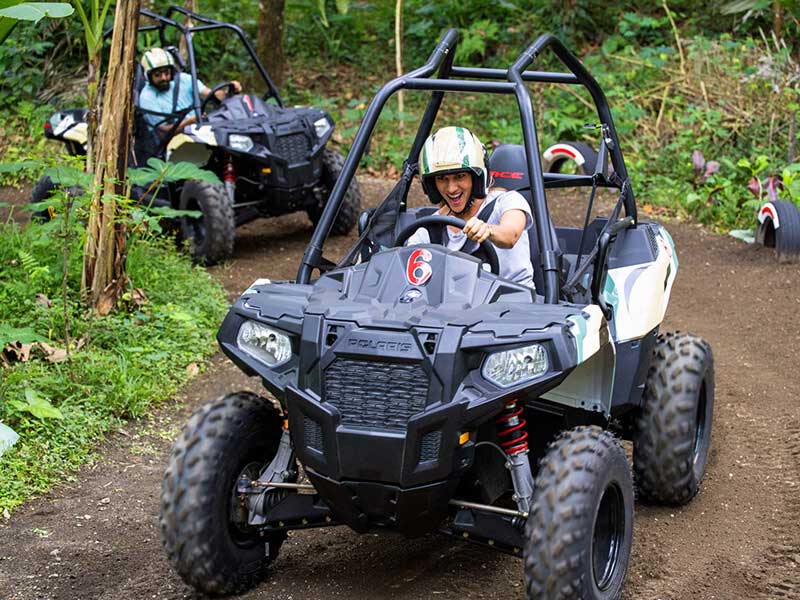 MASON JUNGLE BALI
If you love adventure, Bali has several challenging recreation that would fit your adventurous soul! There are Watersport, Hiking, Off Road and the newest that's still so happening thesedays, Mason Jungle Buggies. The kind of recreation that Mason Jungle Buggies offer to you is to ride the buggy in a the wild.
Mason Jungle Buggies offers you two types of buggy that you can choose to ride. The machine capacity of both buggy is different. One is a Single Polaris ACE, it's smaller type of machine (325cc). This is made for one rider, meanwhile the other one is Double Polaris RZR (570cc) and it's made for two people. It's ideal if you are going on an adventure with your lover, or kids even the underage kids to ride Polaris in Mason Jungle Buggies.
Mason Jungle Buggies is located in Taro Village, Tegalalang, Gianyar. It's about 15 minutes to get there by north Ubud.
What to do in Mason Jungle Bali?
It's easy to ride the buggy, but having driving license is a must. That is the number one rule every visitors have to follow. The visitor that will ride the buggy would be given such instruction like how to handle with the bends and the climbs. Mason Jungle Buggies become the greatest adventurous off road recreation that will coloring your holiday with your family, love one, or your kids to be more interesting and fun.
In a round per lap, you can get through 4.5km ways with many obstacles that you have to pass. There are traffic signs and direction signs so you won't get lost. Mason Jungle Buggies really help you to refresh your mind of stressful routinity! For the beginner, the beginner would be given such instruction follows with some short training before riding. The tracks that the beginner will go through is covered by the limestone and gravel so that the soil is stronger and the beginner could ride without any worries.
How much does it cost?
The visitor who would love to ride the Single Polaris ACE would get charge IDR 890.000/person and for the visitor who would love to try riding the Double Polaris RZR would get charge IDR 1.250.000/pair. That price is already included with round-trip hotel to Mason Jungle Bali, lunch, welcome drink, Guide, and life insurance.
Additional Rules and Regulation
1. The visitor that will ride the buggy is a must to have a driving license.
2. Every activity worth 3 round (3 lap).
3. Every one more additional ride on the next round worth additional price.
4. The driver only be accompanied by the Guide only on the first lap.
5. Every visitors are allowed to enjoy the swimming pool facility.
6. Every visitor is expected to wearing full shoes (sneakers, not heels).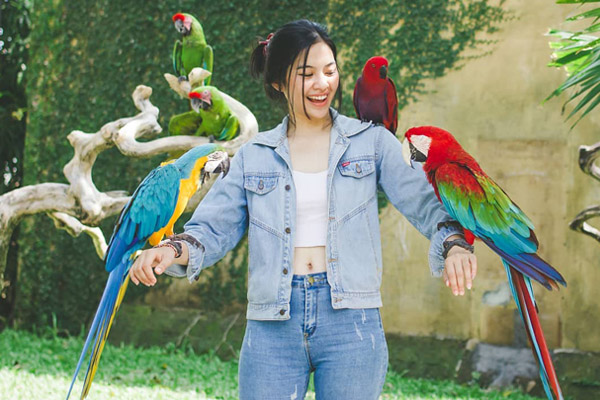 BALI BIRD PARK
Bali Bird Park has a quite complete of bird collections and it is also the place for the kind of rare and endangered birds. The captivity place in Bali Bird Park for the rare and endangered birds is called Bali Nursery. In Bali Nursery, the rare and endangered birds are in breed and preserved so that the species will not become extinct. Unfortunately, Bali Nursery is not open to all the visitors, but don't worry, to see so many species that Bali Bird Park offers to you is quite enough to heal your sadness of not going to Bali Nursery. You can see the birds that officially from Indonesia also the birds that come from Africa and South America.
Bali Bird Park occupying two hectare area and maintain around a thousand of bird that came from two hundreds and fifty bird species. You will not only spoiled by the birds and nature view, Bali Bird Park also have so many tropic plants collections. There are almost 2,000 kind of tropic plants in Bali Bird Park. The existence of the tropic plants collections seriously beautifying and refreshing the atmosphere of the area.
Bali Bird Park is located in Gianyar on Serma Cok Ngurah Gambir Street, Batu Bulan Village, Sukawati. The Location is strategic so the visitors will never got any troublesome to get there. If you been there from Denpasar, it only takes 13 KM and 25 KM if you been there from Ngurah Rai International Airport.
Other than that, Bali Bird Park is located nearby the others tourist attractions such as Sanur Beach, Ubud, Bali Zoo Park, Bali Safari Park, and Kintamani. Bali Bird Park also offers the visitors a beautiful view, so you wouldn't get bored to have a vacation there.
You can get Bali Bird Park by any transportation either it's your personal transportation such as cars, bike and motorbike, nor public transportation such as Taxi, Online Taxi, or Rent Car. But it could be easier if you go there by cars either it's your personal vehicle or a rental one.
What to do in Bali Bird Park?

Like this article has mentioned above, Bali Bird Park has so many bird species in their collections. Some poultry collections that you can see are Blue Peacock, White Peacock, as well as several types of Macaw such as Buffon Macaw, Macaw Severa, Golden Blue Macaw, Scarlet Macaw and Byacin Macaw. There are also collections of rare birds such as Gray Parrots, Crimson Wing Parakeets, Bido-Eagles, Javanese Eagles, Cassowaries, and Golden Junai.

Visitors can also enter the giant bird cage and have fun with the birds inside. It's surely will be a special experience that is memorable in your tour.

Bali Bird Park is also have reptiles collections. If you also love reptile, Bali Bird Park is a heaven. There are so many reptiles you can see such as Crocodiles, Snakes, Komodo, and Iguanas. Of course Bali Bird Park has many species of every one of them.

If you want to visit Bali Bird Park, make sure it matches the schedule of events or attractions that are usually served at this place. The attractions that is offered by Bali Bird Park are;

1. Bali Rainforest. It is a Flying Bird Show that is started by 10.30 AM to 04.00 PM.
2. Basic Instinct. This is an attraction for the visitors to watch the Bird catch their Prey. This show is started by 11.30 AM to 03.00 PM.
3. 4D Theatre. In this Theatre the visitors could watch a movie about birds in 4D. It started by 10.00 to 05.30 PM.
4. Komodo Experience. In this attractions the visitors will see the handler feeds the Komodo. This attraction offers a new sense that you will never get in television. This is started by 11.00 AM to 02.30 PM.
5. Guyu Guyu Corner. You can take pictures here. It is started all day long from the opening until it's closed.
6. Papua Rainforest Feed. This attraction offer the same sense with Komodo Experience but in here, the visitors can meet the bird from Papua, the most beautiful bird called Cendrawasih. It's started by 09.30 AM to 12.45 PM.
7. Lorry Feeding. Now, this is your turn. Lorry Feeding allows the visitors to feeds the Bird. It is opened all day long.

Ticket Entrance Price

If you are domestic visitors you can be there with your kids by purchasing the Entrance Ticket as much as IDR 150,000 for adults, IDR 75,000 for children from 2 to 12 year old, and FREE for baby from 0 to 2 year old. Meanwhile for the foreign tourist, there is a special price. Ticket Entrance Purchasement for a group of more than twenty people would be provided a tour guide by the company to go all around the Park.

Bali Bird Park does its operational work from 09.00 AM to 05.30 PM. It is applicable both weekend and weekdays.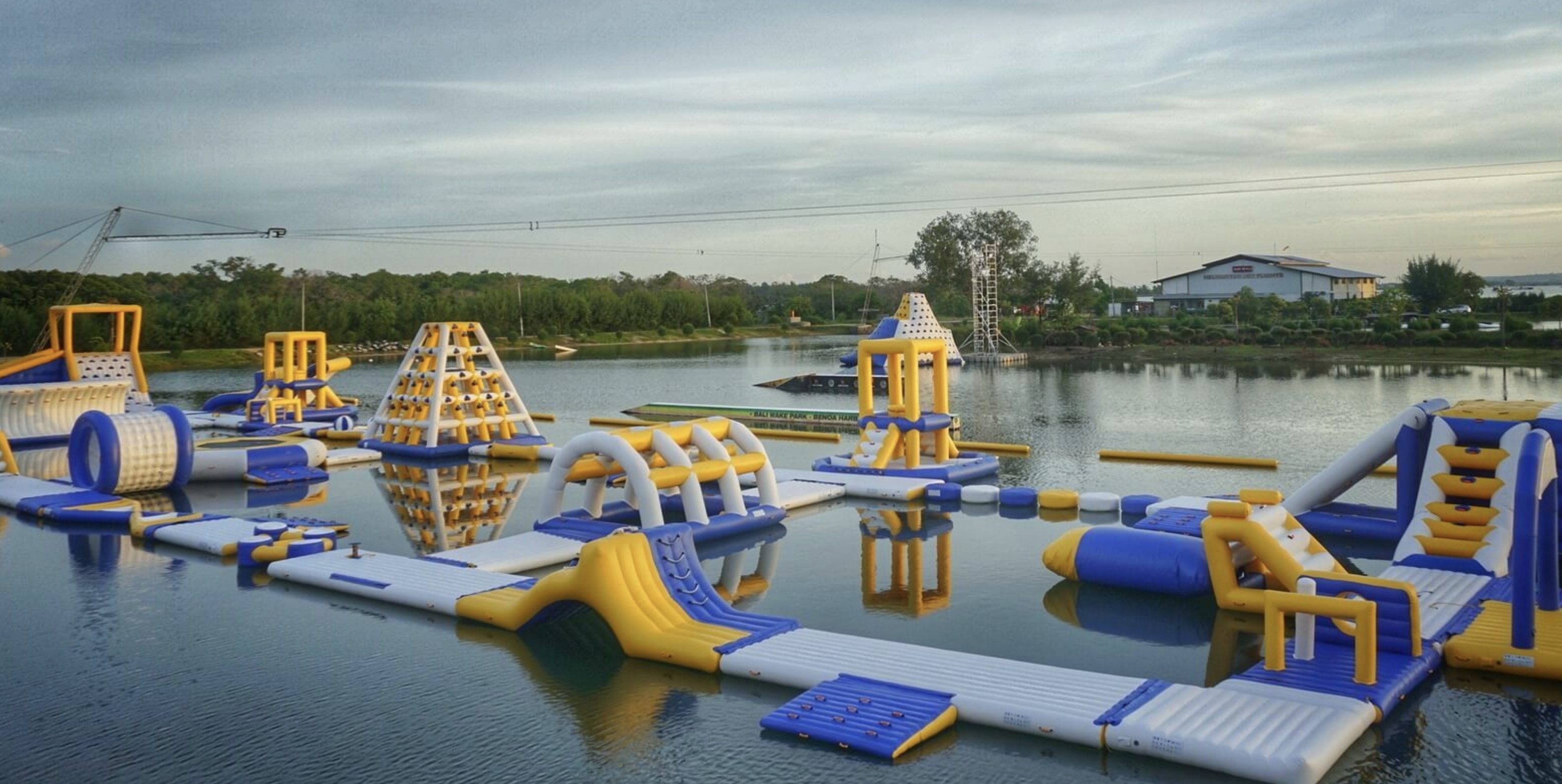 BALI WAKE PARK AND AQUALAND
A good news for watersport lover. Bali never bored to provide tourists the best places for Holiday. Bali Wake Park and Aqualand is located in Benoa, Denpasar. This place offers you a watersport activity that can play with your adrenaline. If you a watersport lover, Bali Wake Park and Aqualand is capable to give you the best experience during your holiday in Bali Dewata Island.

As we all know, Tanjung Benoa Beach is the center of watersport recreation in Bali, offers you the ordinary wake board games, but your activity in this tourist attraction is really depending on the weather also the waves that is being pulled by the speed boat yet it would be different for Bali Wake Park. The wake boarding game in this port doesn't use speed boat to pull, but it uses Cable instead that is connected to the tower. There are two choices, one is to use 2 short towers and the second is to use 5 taller towers.

To play in the Wake Board could include 8 people in a row. It doesn't take place in the beach like the watersport in Tanjung Benoa Beach, but in an artificial 5 hectare lake. This place is made so well and worry not, the safety in this area is the main concern here. Are you ready to experience a different watersport in Bali?

Bali Wake Park is begun its operational in April 2015. It's so easy to get there since the location is so strategic, only needs about 10 minutes from Ngurah Rai International Airport. If you are from Nusa Dua, you only need about 15 minutes to get there since it's available to be accessed by the sea high way.
What to do in Bali Wake Park and Aqualand?

If you are a beginner, Bali Wake Park still fit your criteria. You only need to follow the instructions and you probably will get it in the first phase. It'd be hard for the first time, but everything is possible. There are so many tourists keep coming back and redoing things here since the happiness and experiences that Bali Wake Park offers is so fun and no joke. The visitor can choose the duration to play this game. You can choose from 1, 2, and 4 hours with different price. If you happen to have a six year old kids or 70 year old relatives, this game is still okay for them. The speed capacity of the machine has been set according to the age and experience. To make the game more fun, there will be some obstacles. Don't worry, Bali Wake Park gives The visitors choices to pass it or skip it.

There is not only Wake Boarding that you can experience here. If you happen to feel tired and need some rest, Bali Wake Park provides SPA or maybe you can just enjoy the beach while drinking cocktails in the Pool Bar.
Ticket Entrance Price and Rules and Regulations.

There are four choises. One, if you wanted to try the game for one hour it's cost to IDR 250,000. The more hours you take, the cheaper you get. You can get 2 hours of playing the games for only IDR 400.000. for 4 hours, it's IDR 550.000. if you happened to play it all day long, you can get it for only IDR 700.000.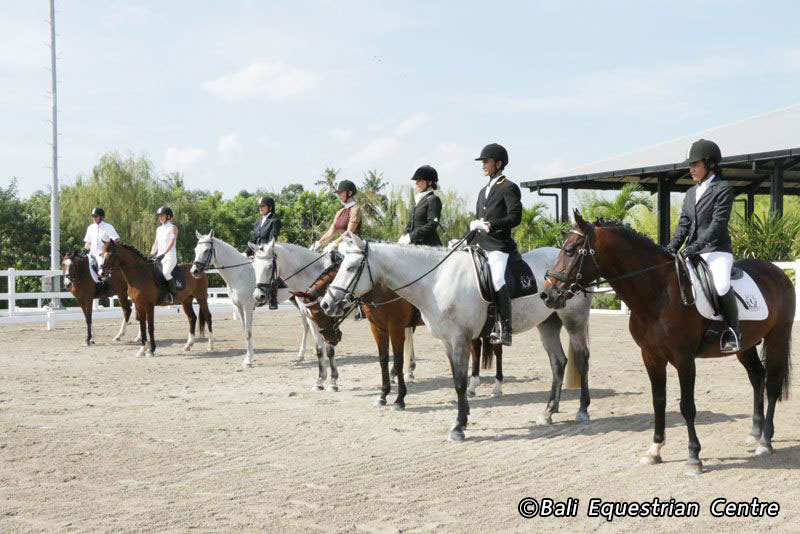 BALI EQUESTRIAN CENTRE
Bali Equestrian Centre is a recreation that offers tourist to horseback riding. It is located in Canggu Asri area, if you are a horseback riding lovers or the visitors who wants to have a horseback riding experience, Bali Equestrian Centre is the best choice. Not only for the expert, Bali Equestrian Centre offers you a facility for a beginner either for private or groups that started by 3 year old.

To get Bali Equestrian Centre you can visit Karang Suwung Street, Canggu Asri Housing, Canggu, Bali. it's open from 08.00 AM to 09.00 PM.
What to do in Bali Equestrian Centre?

The facility that Bali Equestrian Centre (or BCE for short) offers to you includes 25m x 65m indoor area and 30m x 90m outdoor area that has 1 jumping set for the professional. There is also an 20m x 20m area for children to learn how to horseback riding a pony.

Not only learning horseback riding, BCE also offers you to go around places there while riding a horse. The visitors can choose to go round the village or go around the beach. As long as you going around the place you choose, there will always one staff to shadow you for security reason, but the visitor isn't allowed to go around the beach on Sunday because the crowds is higher and it's not safe for both the rider and also the horse. this facility can only be tried by over 7 year old person.

BEC also have Café and Restaurant with swimming pool in it. So it's really fit for you if somehow you feel tired and need some rest.

If you happen to make an event like birthday party, meeting, shooting, and many other events, you can held it here by contacting the staff there. They will help you prepare your events.
How much does it Cost to Horseback Riding?

The cost depends on the duration you want to ride the horse, for a learning of 45 minutes cost IDR 600.000 to IDR 850.000 you will get lessons and instruction depends on your needs and desires such as just for fun or perhaps you need it to increase your riding skills for competition and many more.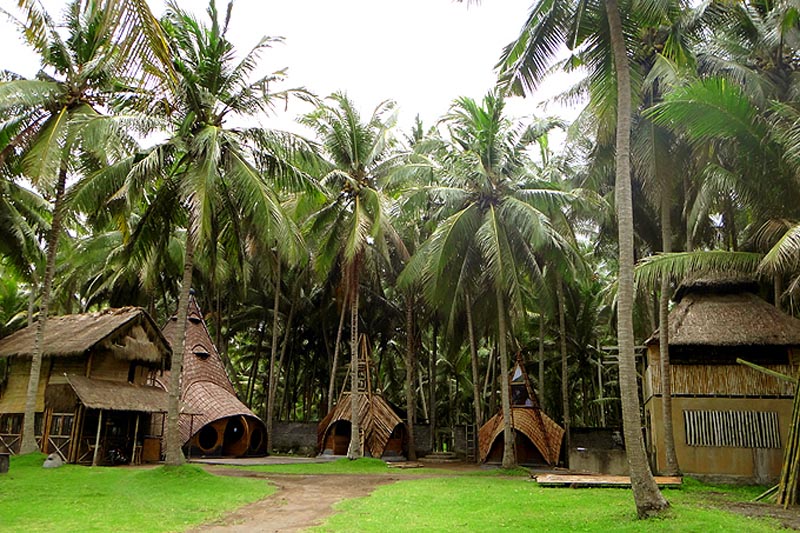 BALI CHARLY CHOCOLATE FACTORY

This chocolate house is a chocolate factory that is built by a foreigner from US, he usually called by Charly. That's why the place is named as Charly Chocolate Factory. This place is located in Karangasem.

Unfortunately, the place is not like the name. If you go to Karangasem and visit Charly Chocolate Factory, you will never seen any chocolate production. The buildings are made with chocolate nuance by bamboo. It has a unique design in it so this place is a good place for you to beautify your instagram feeds.
What to do in Charly Chocolate Factory?

Charly Chocolate Factory is built on the edge of Jasri Beach. During your visitations here, your eyes will be spoiled by the outstanding views of the natural surroundings. The most interesting and exciting part of this place is there are at least 3 swings tied to the trunks of coconut trees, so you can relax enjoying the view and the beach, releasing your stress and burden while swinging.

Another interesting part that colors your holidays here in Charly Chocolate Factory Karangasem is there's a building that is designed similar to a large ship. You can relax and look around the boat just like you are on a sailing big boat even though the boat is not really sailing.

If you feel satisfied enough of walking around to see the Charly Chocolate Factory's uniqueness, you should try the chocolate menu in the Restaurant that is provided by the Charly Chocolate Factory. You can enjoy Bali Krunch which is a chocolate bar with a sweet taste, packed with crunchy rice and coated with dark chocolates.

Besides, You can also find a small studio that sells very beautiful handicrafts that made by soap. So you can take them home as souvenirs or memories of visiting the Charly Chocolate Factory.
Ticket Entrance Price

For those of you who are having a vacation here, you only need to spend a budget for the entry ticket as much as IDR 10,000. You will get a herbal soap as a souvenirs. This place really fits for your holiday with your family, friends, or even the love ones.

To be exact, Charly Chocolate Factory is located in Panntai Jasri, Subagan, Karangasem Regency, Bali.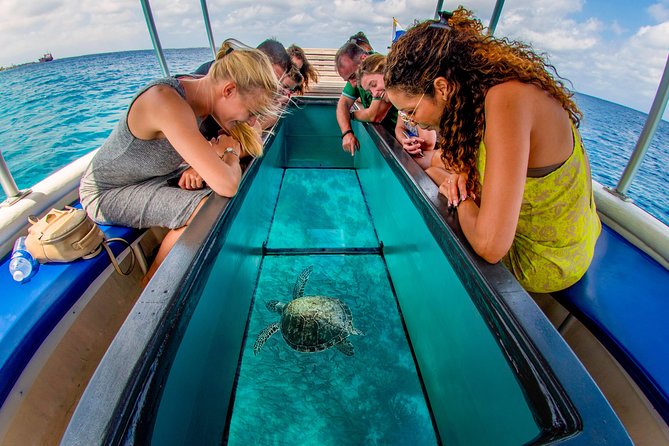 BALI GLASS BOTTOM BOAT

It's quite hit and popular to take a tour to the turtle island and glass bottom boat package. You can enjoy watching turtles breeding in Tanjung Benoa. You should get in the boat that the bottom part is made by the glass. It's on purpose to let the passengers freely watch the beauty of fishes and coral reefs.

If you have desires to see the fish close up, you can bring a bread and feed the fish you bread.
What to do in Bali Glass Bottom Boat?

While the boat is starting to sail from the coast of Tanjung Benoa, participants will be invited to the middle of the sea, it's about 500 meters from the beach. The journey from Tanjung Benoa beach to the turtle island by the glass bottom boat is only 15 minutes. After the passengers have been satisfied to watch the natural beauty of the underwater, the next destination is to the turtle island. Each participant is charged with an IDR 10.000 for the ticket to watch the endangered green turtles.

The passengers will also be introduced about how is the good ways to breeding turtles. Started by laying their eggs, hatching into small turtles known as "Tukik" after they are old enough, some of them are released into their home in the sea, but some are kept in captivity. You can take pictures with these animals, holding them in the right way according to the guide's instructions. Your Bali tour experience will be more complete by taking part in a glass bottom boat recreation and Turtle Island.
Ticket Entrance and Rules and Regulations.

To ride the boat, it cost IDR 300.000. One boat allows to 10 passenger to get in, and even though there's only two people in the boat, the boat still cost IDR 300.000. So make sure you bring a lot of people to get a fewer price.

The minimum booking is 2 people and there is no different price for locals nor foreigners. Every pessangers get life insurance, and the duration to ride the boat is about an hour.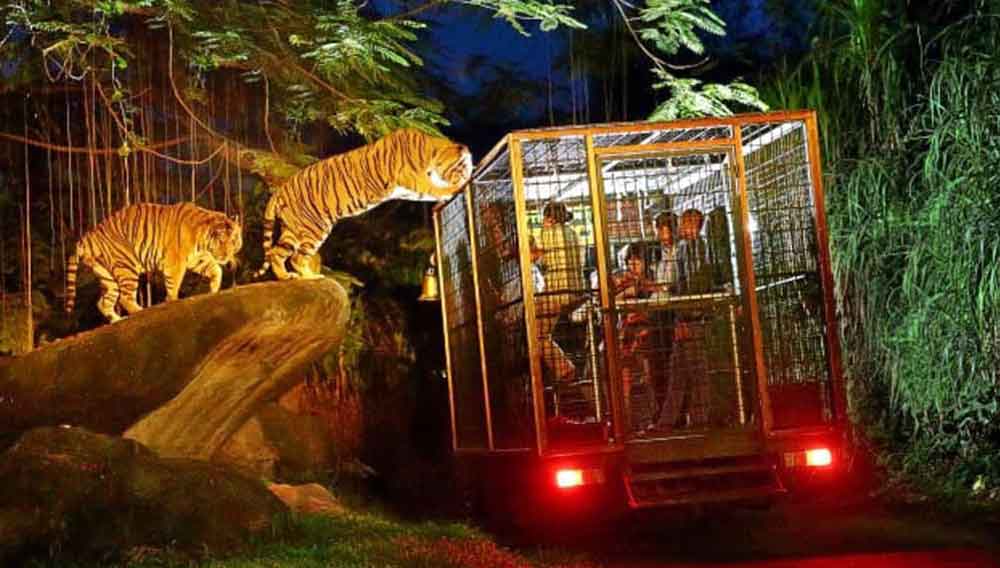 BALI NIGHT SAFARI IN BALU SAFARI & MERINE PARK

Comeback to Bali Safari and Merine Park, Bali Safari offers you the most unique experience to explore the biggest zoo in Bali under the night stars. You will get around approaching the animals with a specially designed tram-enclosure. You can see some of the world's most gruesome hunters and nocturnal creatures roaming their natural habitat.

In this package you can approach and feed the great creatures. Bali Night Safari will make your holiday turn awesome and give you the best experience at night. This Night Experience start from 6 pm until 8.30 pm.

After a variety of thrilling and exciting activities, you can relax relax and enjoy the BBQ accompanied by DJ music with a panoramic view of Africa from Nkuchiro Bar & Grill.

Bali Safari is the largest zoo located in Gianyar, with a variety of local animals as well as from India, Africa, and others. Night safari experience at Bali safari & marine park is perfect for your family who wants to see wild tiger life at night.
Do you want a cheaper Ticket?

If you have the desire to do a night experience and other experience at safari park. Bali Safari and Merine Park provides online ticket which are certainly cheaper than you pay directly on the spot. You can save your money 10% or more depending on the number of your members.

There are several packages, you can choose besides night experience.
The Package Details.

First, after you have arrived at Bali Safari and Merine park, the staff will welcome you with a welcome drink
Safari Walks under the stars.

Then, you can have Night Safari Journey passes wild animals for one times before enjoying a BBQ dinner at Nkuchiro Restaurant.

Third, there is a unique dance performance – Africa! Rhythm of Fire Show. After watching the performance you can finally explore and meet up close to Wildlife.

PEEK A BOO KIDS CAFÉ

Peek A Boo Kids Café is located in Sanur and it is the most different entertainment locations from other entertainment that has been described. The entertainment that is offered at this location is in the form of a children's play entertainment location with a variety of play equipment that has been designed so that it can be used comfortably by children aged 4 to 12 years. Peek A Boo was founded on the basis to encourage the active activities of children which are applied in the form of motion, so that it will produce something quite interesting and unique that will provide satisfaction for your child or baby.

In addition, in Peek A Boo, children are also taught to be able to channel their creativity which is certainly diverse, and will be clearly seen from the activities played in the Peek A Boo arena. Example there is a playground arena, with various supporting toy tools. It's just that distinguishes from other playgrounds is in terms of activities carried out indoors or indoors.

Peek A Boo is open every day from 09.00 AM to 06.00 PM. The entrance ticket is sold for IDR 85,000 / child (including 1 adult), if there is an additional adult who wants to accompany, it is subject to IDR 25,000 / person.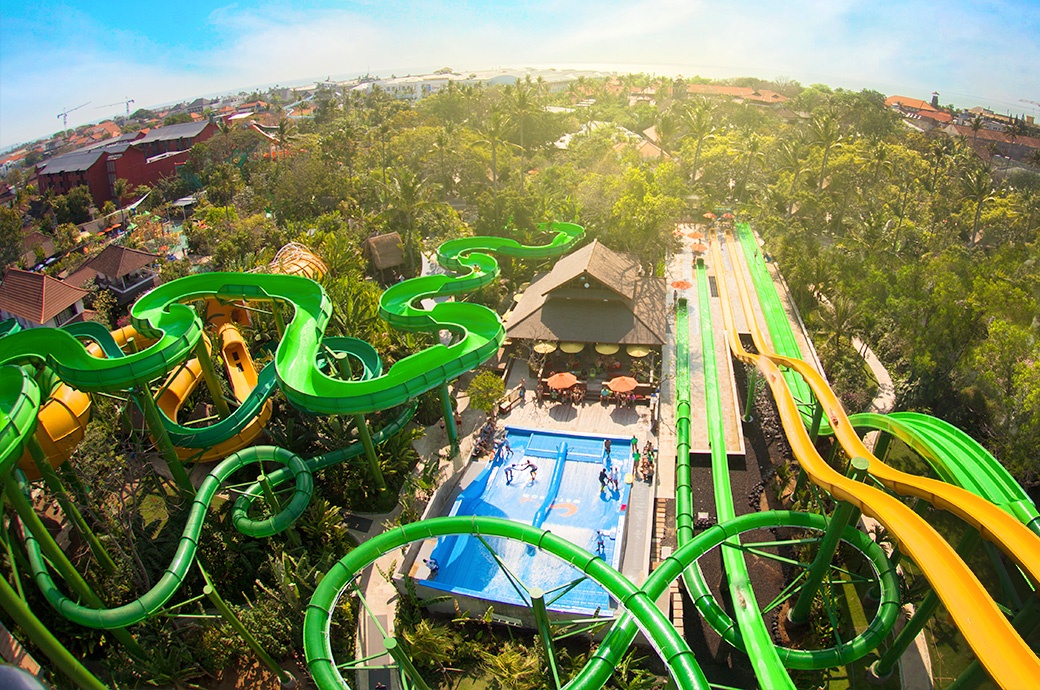 WATERBOOM BALI

According to its name, Waterboom is not a new things for people especially travelers. This Waterbom Bali is one of the Interesting Places to Visit in Bali, the location is right in the heart of Kuta Bali and right in front of Discovery Shopping Mall Bali. The total area of Waterbom Water Park is 3.8 hectares, consisting of tropical parks and water rides that challenge your adrenaline with international standards.

But, Besides having a water playground, this recreation area has other facilities such as gazebo and spa services. There are 15 water rides provided at Waterbom Bali such as Funtastic, Lazy River, Constrictor, Python, Superbowl, Twin Racers, Smash Down 2.0, Fast n Fierce, Double Twist, Green Vippers, Pipeline, Climax, Boomerang, Flow Rider, and Euro Bungy.
Twin Racers

Twin Racees is a slide. It's a pretty tall twin slide, and straight, and it will be more exciting when you play it with your friends, competing with each other first to the bottom, whoever reaches the finish line first wins.
Smash Down 2.0

Smash Down is also a slide like Twin Racers. This slide is the most famous since long time ago, the height is now 25.9 meters perpendicular and 5 meters higher than the first Smash down 1.0. To play this mode, you should stand in a capsule, and then the capsule will opens before you know it and it will fall you down. This game can challenge your adrenaline, so it's not really match for the heart desease or pergnant visitors.
Faat N Fierce

This slide is still challenging our adrenaline no less from the other skate rides. It consists of 2 skates that prioritize speed so it is very tense.
Double Twist

This slide offers you a sensation of rolling round from high to down. It's spinning you over and over again.
Constrictor

This slide is the longest slide in the world, with a length of 250 meters or 1/4 kilometer.
Green Vipers

This slide uses the most sophisticated glass fiber Silk Technology in the world. This slide is 6 meters high and 19.62 meters long, glides and spins around tropical trees on the waterbom in Bali.
Python

This ride is the biggest skating among all the slides in Bali's Waterbom, you can play with as many as 3-4 people in one tire, and you will be rotated in a giant tube with a very high speed.
Pipeline

This slide is shaped like a pipe that is 150 meters long and 20 meters high from the ground surface, you will be made to spin around this tropical water park for 10-13 seconds with a very high speed, and you will feel 3.5 earth's gravitational impulses.
Funtastic

This mode is an location in the swimming pool that was made for children and families.
Lazy River

This is a relaxing pool mode. The visitors can be together with their family and friends to explore the fake river while talking and going around the jungle and tropical gardens of Bali Waterbom. This mode is good when you want to relax for a moment to normalize the adrenaline that has been drained by the other slides.
Super Bowl

This slides is like a closet hole, you will be going down from high to down around and around in the hole.
Climax

This ride is the most extreme at this time after Smash Down 2.0, the position of the tube perpendicular to the height of 16 meters from the mainland, capable to make you goosebumps and screams out loud when are being launches to the down. You will definitely panic before the tube door opens, a sensation of fear that you will never forget forever. After the tube is opened you will be brought slide down with the power of 2.5 G-speed force. This experience you will definitely never forget for life.